Underwater tennis court planned for Dubai gains traction
Plans for an underwater tennis stadium off the coast of Dubai are set to move a step closer to reality this year, according to the Polish architect behind the much-hyped project.
In April last year, Krzysztof Kotala, who owns the 8+8 Concept Studio in Warsaw, made global headlines when he unveiled initial designs for the proposed Underwater Dubai Tennis Center.
While admitting at the time he had yet to source any investors, he confirmed to Arabian Business this week he was in talks with potential backers in the US to make the project a reality. He also confirmed he is currrently working on the final designs for the concept. "This process takes a few months," he conceded.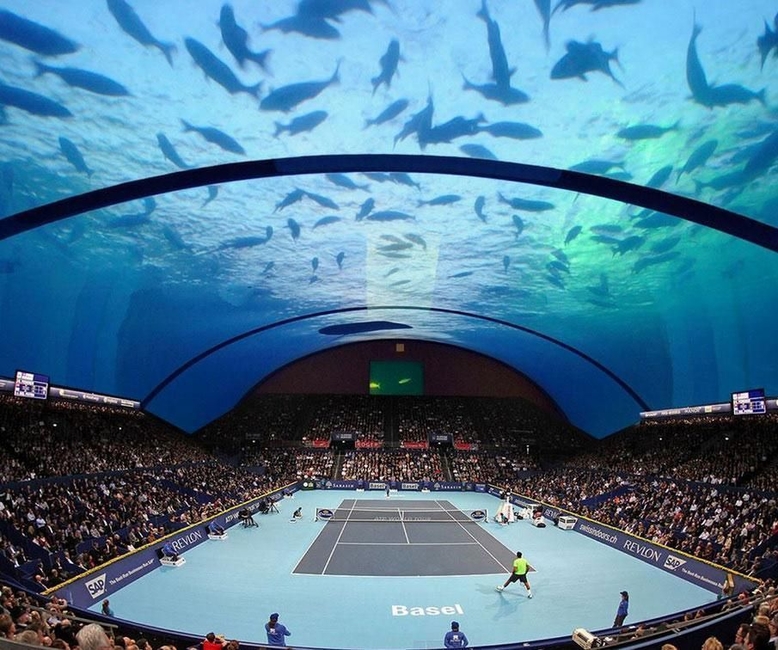 Kotala's initial designs involved seven arenas, with a carbon-glass glazed dome above the court and located in the seabed within a reef off the coast of Dubai, near the famous Burj al Arab hotel.
"This will be something original. This should be somewhere where there is the tradition of tennis. Dubai is perfect for this idea," Kotala said in April 2015, referring to the Dubai Duty Free Tennis Championships, which has been staged in the emirate since 1993.
Despite Kotala's enthusiasm, Sarah Fray, director of engineering and technical services at the Institution of Structural Engineers in London, said underwater projects will always be potentially problematic due to the constraints of building any structure underwater.
"Doing anything underwater is hugely challenging. The argument that acrylic will make this easier is debateable," she said. "The fundamentals are having people underwater, how you keep them watertight and how you cope with the unexpected. I am thinking of minor earth tremors, which you do have in the region."
Fray said developers have two options when it comes to construction: they can push the water back and then flood the site, similar to how Dubai Marina was developed, or built the structure on land, pull it out to sea, sink it and then anchor it to the seabed.
"There is also a scale issue. The tennis arena would be a huge structure to construct and then bring out and sink… You are taking about enormous investment, even if you are constructing on land and bringing it out to sea. This is high cost construction as once you are in a marine environment you also have to match corrosion… So you need high quality construction and high accuracy levels.
"It also has to be deep enough to avoid sea traffic, and there is a lot of sea traffic in the Gulf area… What if a boat might not need to drop its anchor in an emergency? Obviously you do not want a heavy boats anchor landing on your glass roof of an underwater structure. The easiest place is to do it within the tidal range, but the amount of sea coverage would then be quite low.
"I think in general terms [underwater project] by nature are very expensive. But there is a thought that anything is possible if you have the right money," Fray concluded.