Spire of Notre-Dame de Paris collapses due to tragic fire reportedly caused by renovation works
Renovation work is being reported as the cause of the massive fire that has engulfed the Notre-Dame de Paris, also known as Notre-Dame Cathedral, in France, and videos have emerged of firefighters tackling the blaze that has already caused the spire of the historic structure – built between 1163 and 1345 – to collapse, Construction Week Online reported. 
According to a report by UK news website The Telegraph, officials said the fire started by accident, with the cathedral's surrounding area being cleared as its spire collapsed two hours after the blaze started.
The moment #NotreDame's spire fell pic.twitter.com/XUcr6Iob0b

— Patrick Galey (@patrickgaley) April 15, 2019
The report added: "Officials in Paris said the fire, which started around 7pm local time, could be linked to renovation works being carried out at the cathedral."
Renovation work has also been cited by the Guardian as a possible cause of the fire, but it has yet to be confirmed whether restoration activities led to the blaze that is causing the 850-year-old architectural icon's disintegration.
According to the Guardian's report, Andre Finot, spokesperson for Notre-Dame de Paris, told French media: "Everything is burning, nothing will remain from the frame."
French billionaire François-Henri Pinault has reportedly committed $113m towards the reconstruction of Notre-Dame de Paris, while French President Emmanuel Macron promised to launch an international fundraising campaign for the rebuilding activity.
The Pinault family, through its investment firm Artémis, will reportedly support the reconstruction of the cathedral. In the immediate aftermath of the incident, ongoing renovation work at the structure was blamed for having started the fire, but these suggestions have yet to be formally confirmed.
"Notre-Dame is burning, and I know the sadness, and this tremor felt by so many fellow French people. But tonight, I'd like to speak of hope too," he said, according to a report by Reuters.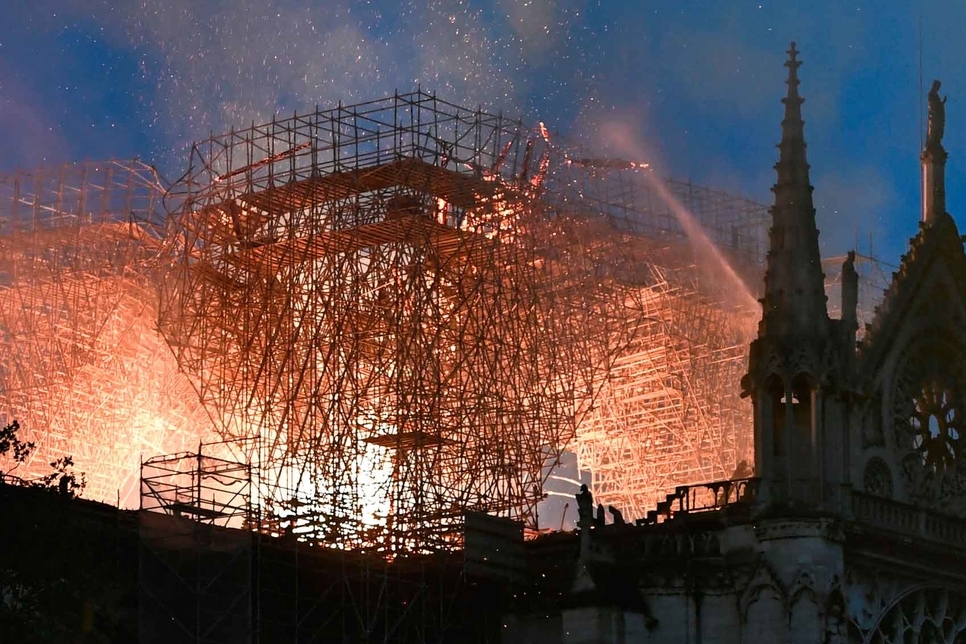 "Let's be proud, because we built this cathedral more than 800 years ago, we've built it and, throughout the centuries, let it grow and improved it. So I solemnly say tonight: we will rebuild it together."
Four-hundred firefighters were deployed to the scene of Notre-Dame de Paris's fire, which was said to have started accidently at around 7pm in the areas where its renovation is ongoing.
Anne Hidalgo, Mayor of Paris, commended these rescue efforts, adding in a tweet that several major artworks and pieces of significance had been retrieved and were being held "in a safe place".
World leaders have come together to express sorrow regarding the damage caused to the iconic architectural structure by the fire, with UK Prime Minister Theresa May tweeting in support of Parisians and the operation's firefighters.
Prior to her tweet, US President Donald Trump had suggested the use of "flying tankers" to put out the blaze, but this suggestion was swiftly rejected by  French civil security agency, Sécurité Civile, which tweeted – echoing similar views by numerous other fire safety and architecture experts – that top-down pressure could lead Notre-Dame de Paris's structure to collapse.