HBA Dubai designs interiors for China International Practical Exhibition of Architecture
Award winning design practice HBA's Dubai office has designed the interiors of the recreational centre of China International Practical Exhibition of Architecture (CIPEA), a highly-anticipated event in Nanjing centred around the upcoming reveal of a complex comprising 22 buildings designed by renowned international and local architects, including Steven Holl, Wang Shu and David Adjaye.
The recreational centre was designed by Italian architect Ettore Sottsass and his practice Sottsass Associati, and lies on a gently-sloping hill with a nearby lake (the complex's nucleus, around which all 22 buildings sit). Featuring bold primary colours and prominent geometrical structures, the centre boasts a pub, reading room, sauna rooms and spring massage rooms, as well as KTV houses.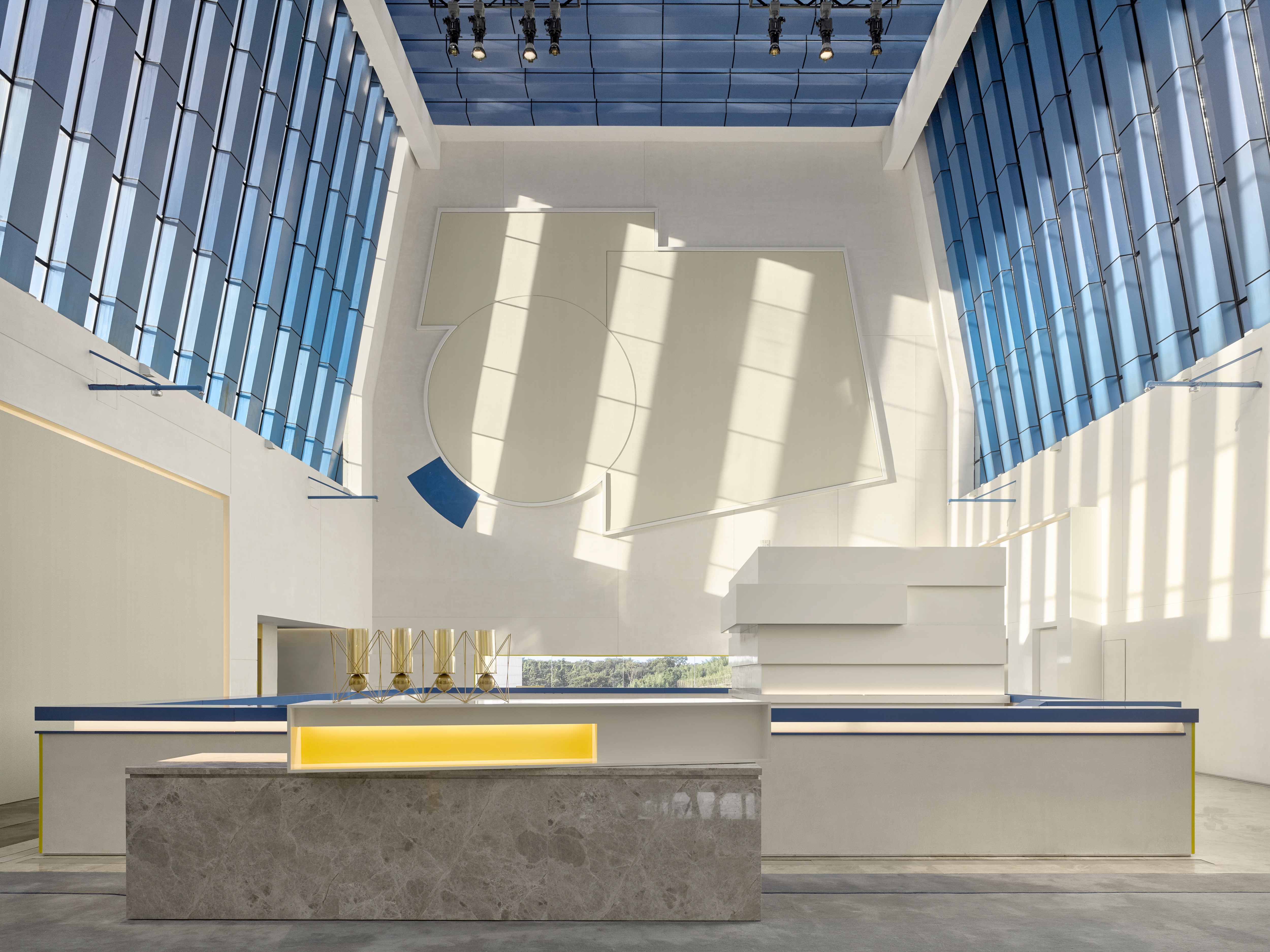 The project is managed by Artyzan Hospitality Group, a part of CIPEA, whose operating philosophy of embracing 'art, culture and emotional wisdom' echoes throughout the architecture and design of the project. And according to HBA partner David T'Kint, the building's interiors celebrate the architectural language of the building without mimicking it.
"Ettore Sottsass' latest architectural venture is a complex architectural masterpiece connecting and disconnecting volumes. My first challenge was to make this work from an operational point of view as a wellness centre with a few guest rooms and connect all the areas to make this a unified guest experience," said T'Kint.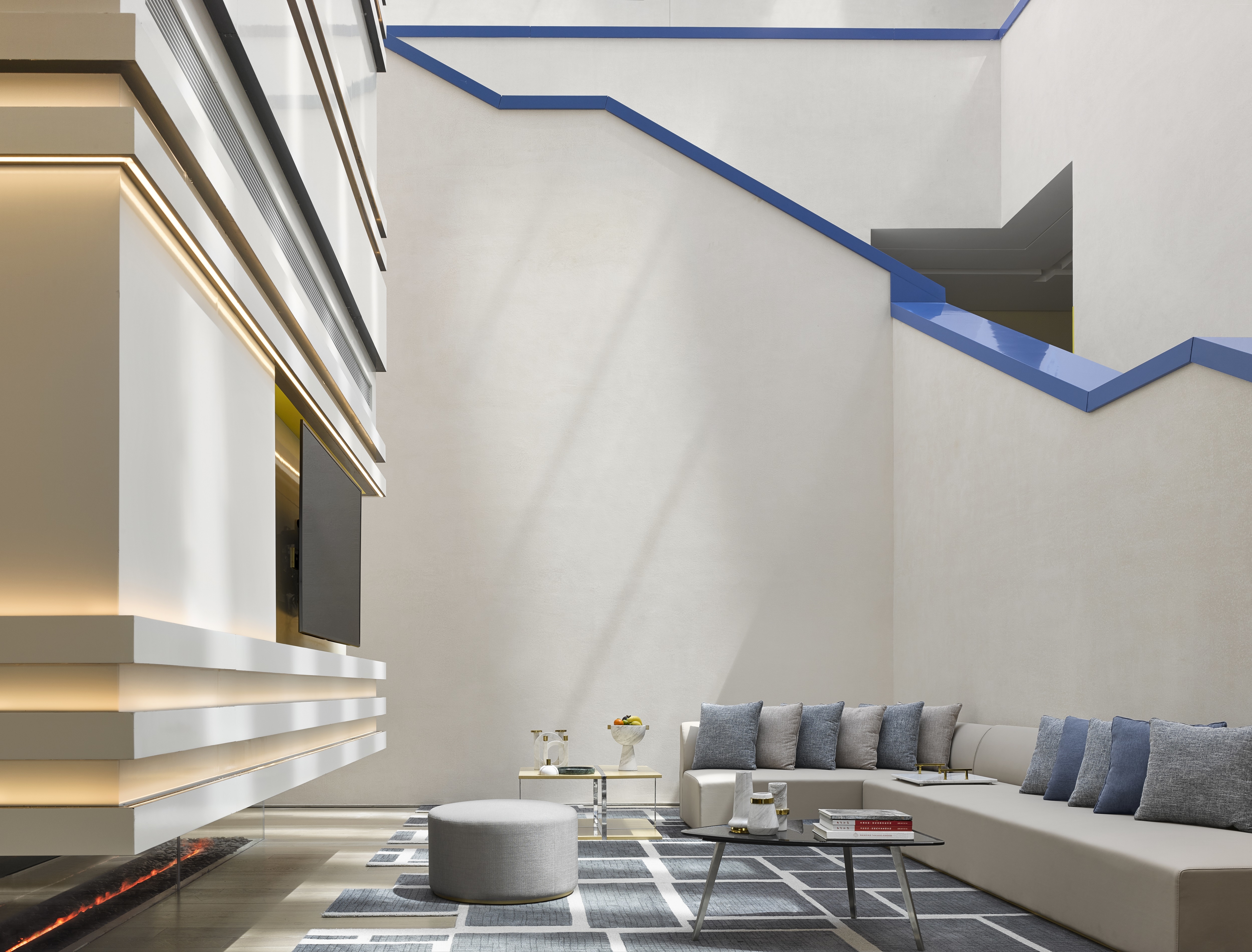 He added that the designers were challenged with an architectural envelope that was extremely powerful; they could not simply copy it or make it dramatically different, rather they had to analyse Sottsass' work and his achievements throughout his career. Using geometry, primary shapes, stripes, and primary colours, the designers created an interior programme that would work seamlessly with the exterior.
Taking all of these elements into consideration, HBA developed an interior space that married Sottsass' exterior architecture. Everything is based on geometrical volumes and touches of colour without being overwhelming.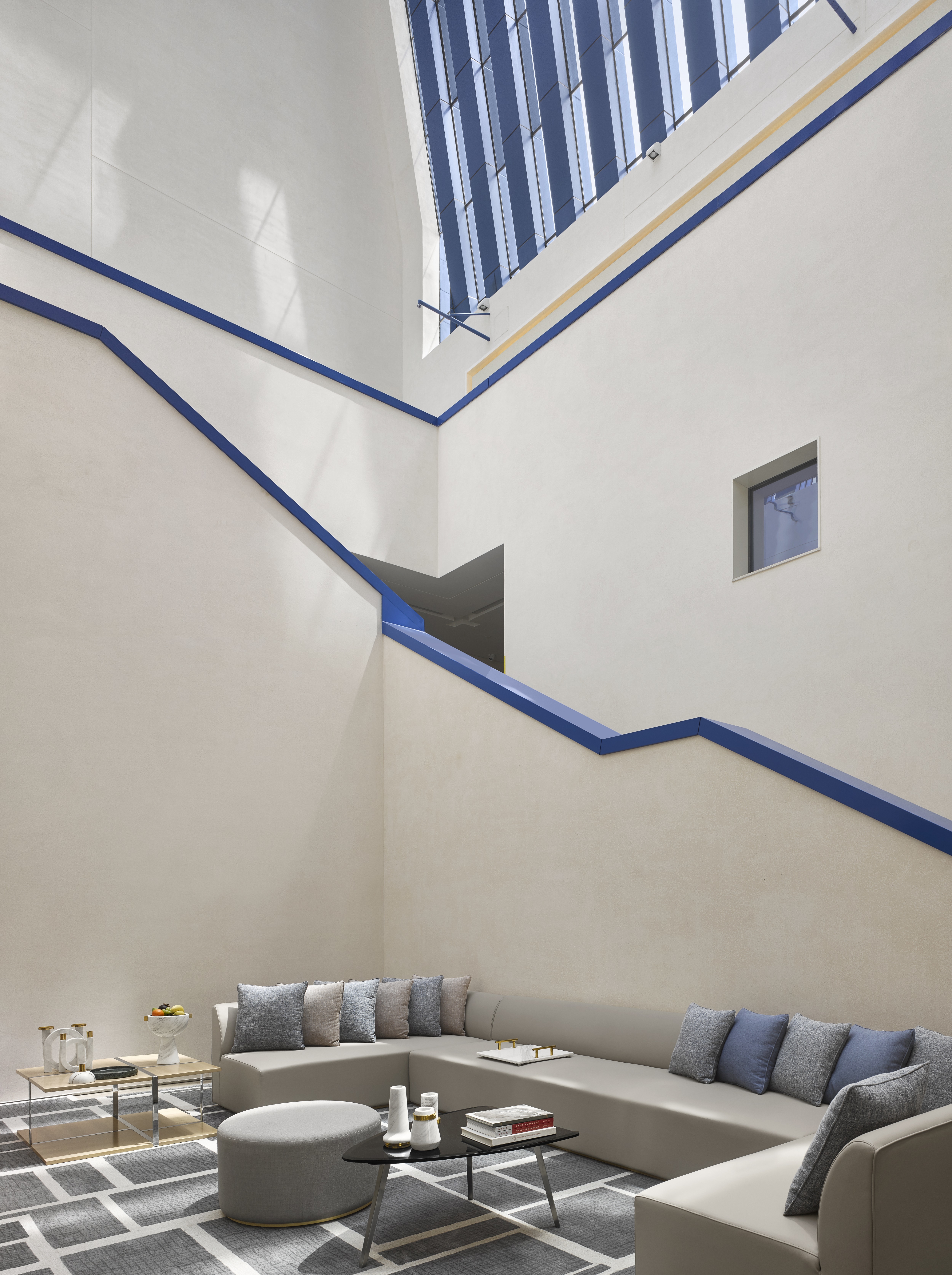 The balance between hard and soft is studied in every area to avoid the feeling of being in a museum.  The walls, for example, are divided in an irregular gridline of shapes, whereas their texture is a warm white stucco. The floors are rhythmed by woollen rugs, designed as geometrical forms.
"While it was an honour to be part of a select group of designers and architects, part of the challenge was to create a visual identity that didn't compromise the guests' experience and expectations," said T'Kint. "Sifang [Collective] is a one-of-a-kind project, unique in so many different ways. Not just a hotel – an experience – driven by remarkable architecture that is not just about design. All the buildings somehow embrace the natural surroundings and each unit is unique and has its own narrative."