Architect behind Dubai's six new public realm projects revealed
The architecture practice behind six new public realm projects to be constructed across Dubai has been revealed as Hong Kong-based practice LWK+PARTNERS' MENA studio, headed by managing director Kerem Cengiz.
Kourosh Salehi, LWK+PARTNERS' regional design director, and his team worked in collaboration with Dubai's Roads and Transport Authority (RTA) to develop the six projects, which include the Hanging Garden Bridge (Sky Garden), Sheikh Zayed Road Promenade, Sunset Promenade, Deira Plaza, Skypods and a pedestrian bridge in Umm Suqeim, were approved by HH Sheikh Mohammed bin Rashid Al Maktoum, Vice President and Prime Minister of the UAE and Ruler of Dubai in April 2019.
Aiming to revitalise the city's public realm, mobility and permeability needs, LWK+PARTNERS focused on improving the pedestrian experience and place-making by utilising advanced integrated transport technology and the activation of the public realm through the inclusion of public art and improved mobility.
The design brief highlighted the need for better connectivity across the city and opportunities to create new destinations at strategically important locations, explained the architects.
"The six commissioned projects established an imperative of addressing the need for urban transformation across the city of Dubai, making it more human centric," Cengiz said. "The initiatives are aimed at enhancing the day-to-day happiness needs of the established communities in which they are located.
"Working on the project was challenging, with both a tight time frame and a broader vision at its heart that needs to be activated appropriately for a nation that constantly strives to improve and set new benchmarks around liveability and relevance for its citizens and visitors alike," Salehi added.
Here, Middle East Architect provides an in-depth look at each of the six projects.
Hanging Garden Bridge (Sky Bridge)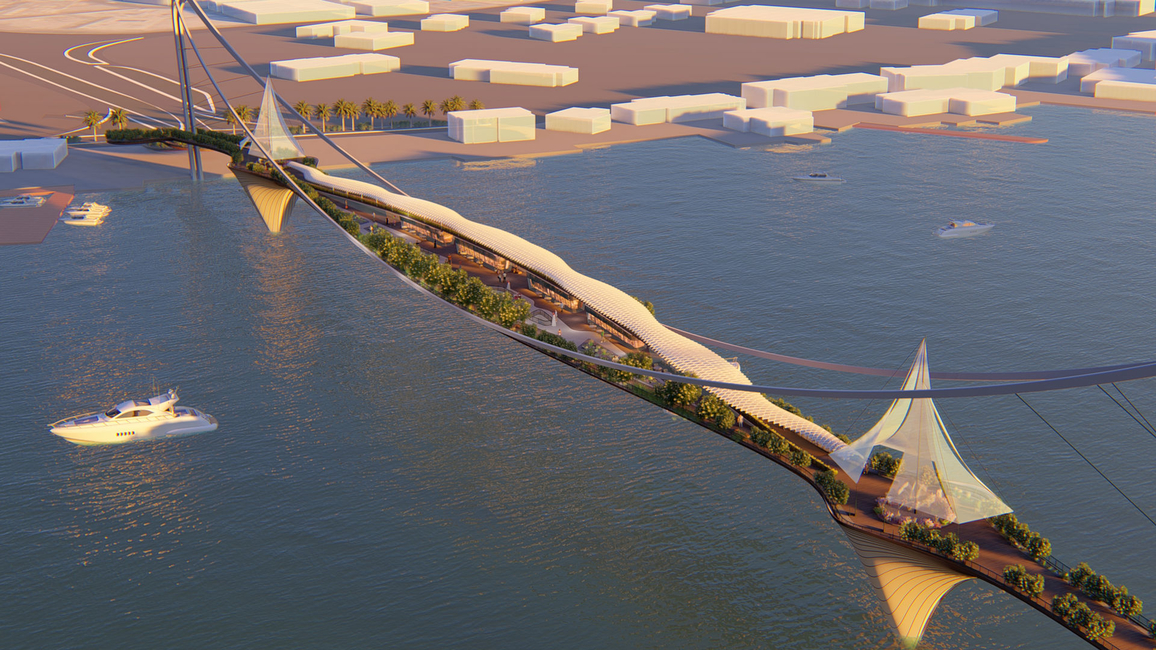 Inspired by the hanging gardens of Babylon, this 'living bio footbridge' aims to activate the Dubai Creek by facilitating easy connectivity across its banks.
Connecting the Al Seef area to Deira towards Union Square, the concept evokes a suspended green oasis that spans 380m in length and 60m in height, covering an area of 3,422m2.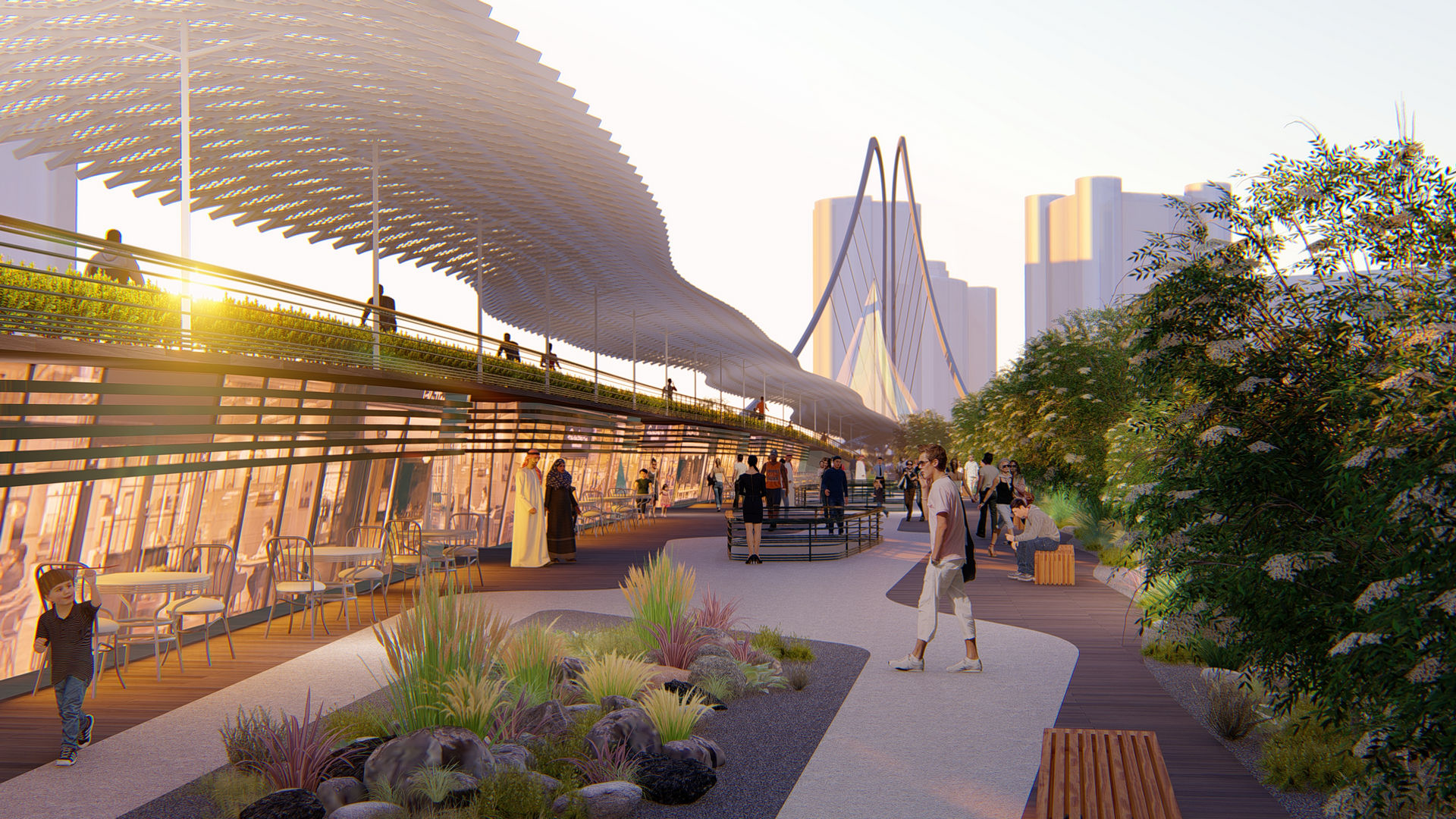 "It will be a new Dubai landmark," said Cengiz. "And a tourist destination for residents and visitors. It will connect many of the city's existing landmarks along the shores of Dubai Creek. It has a hanging garden extending along the length of the bridge together with multilevel lands for strolling, cycling and running."
The bridge will offer panoramic views of old and new Dubai, as well as space for commercial and food and beverage outlets along its length. The treelined route will offer a shaded environment for recreation activities, engagement and social interaction.
Sheikh Zayed Road Promenade
To be located between the Dubai World Trade Centre and the Financial Centre metro stations, the promenade will utilise the area underneath the Dubai Metro viaduct, transforming it into a two and a half kilometre green artery for walking, cycling, gathering and public events.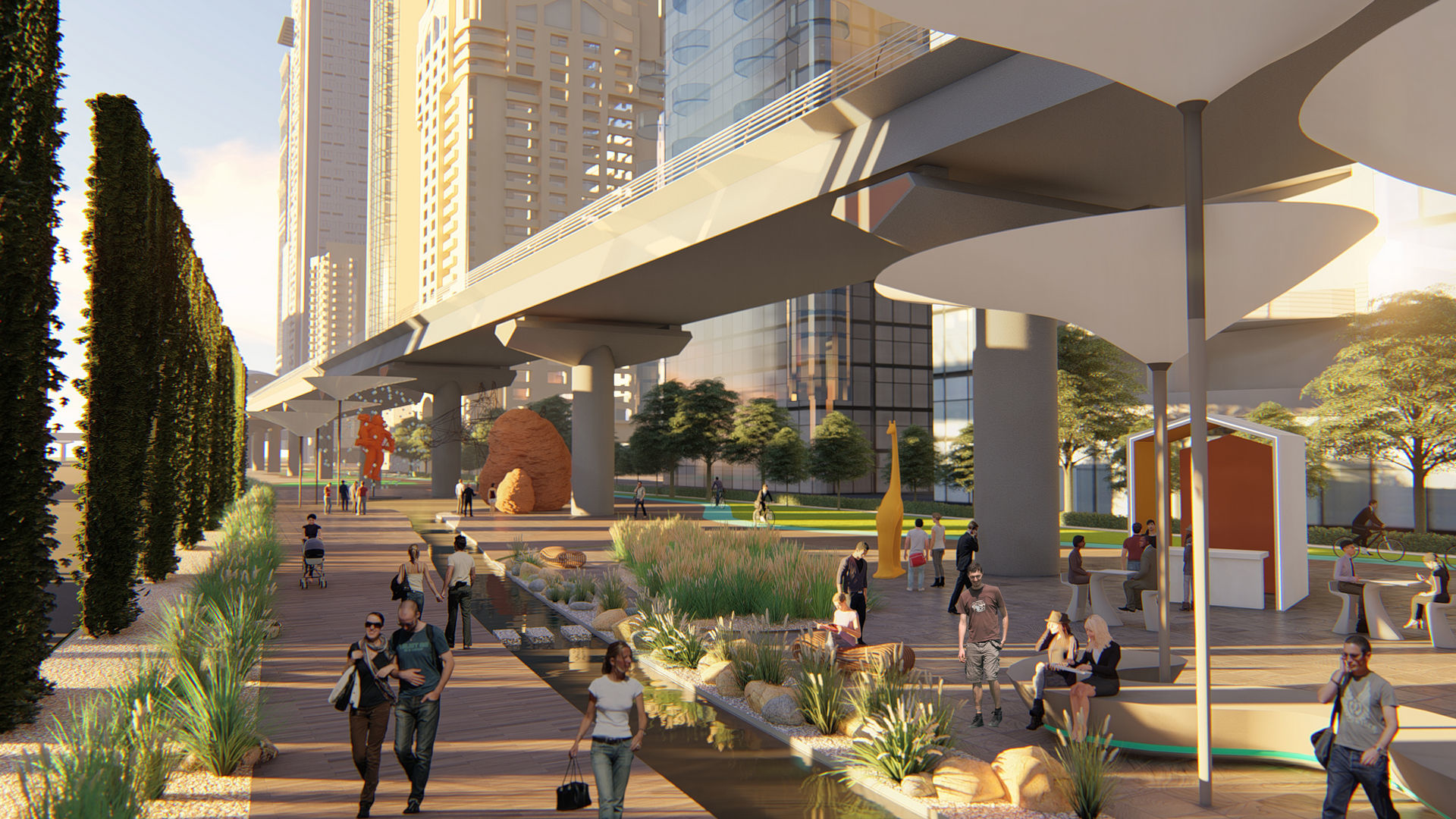 Including three key nodes – a bazaar street, technology park and urban park covering an area of 54,000m2 – the Sheikh Zayed Road Promenade will help achieve placemaking through the use of public art, commercial and food and beverage kiosks.
"People respond to art that connects them emotionally and physically," said Salehi. "Art they can interact with, that adds soul and a deeper conceptual meaning to the shared experience of public life. Art in the urban environment taps into human emotion, linking the individual to the collective, conceptually narrating the place in which it is situated."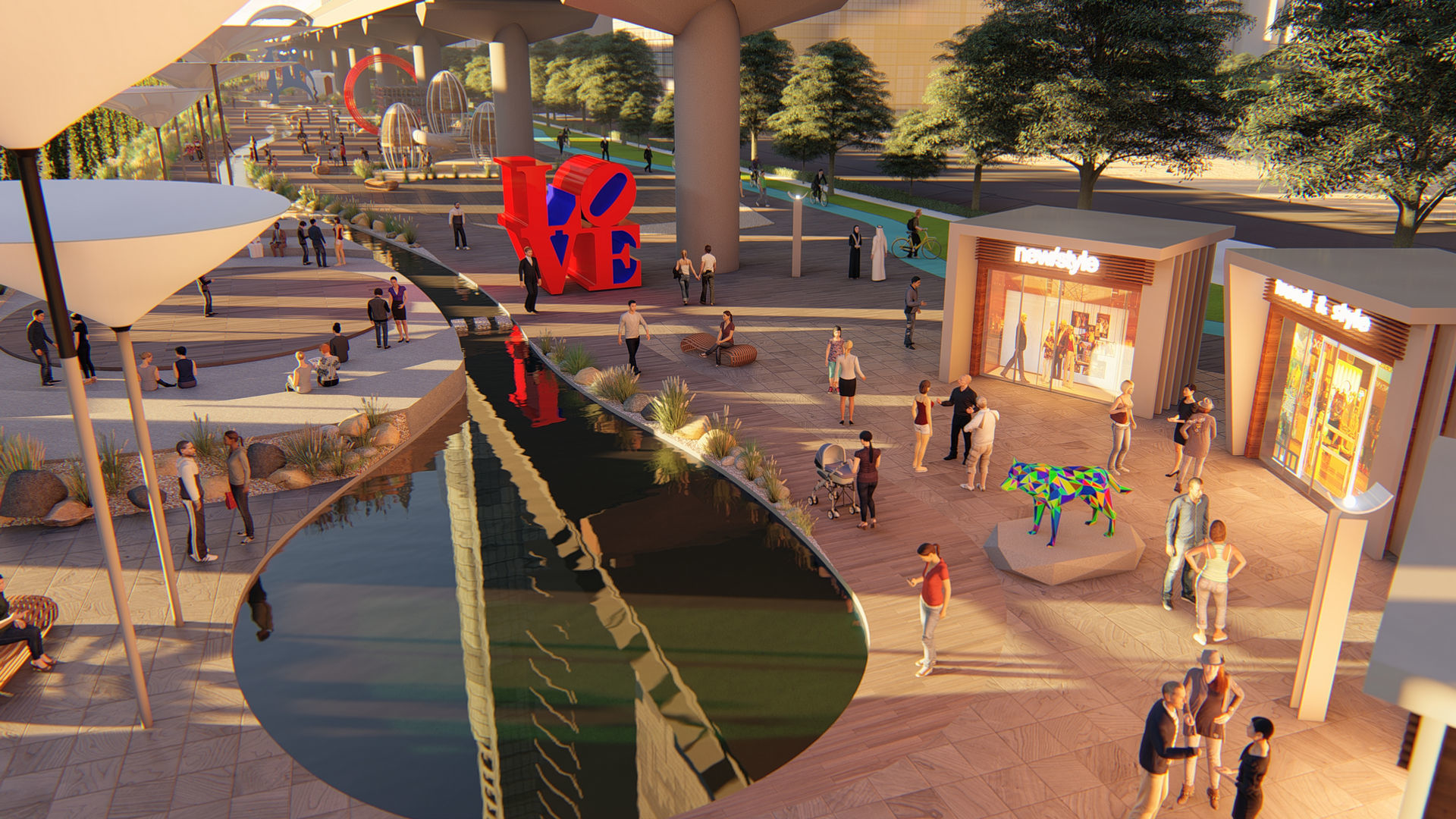 Sunset Promenade
Stretching across an area of 80,000m2 connected to Jumeirah Beach Walk, this new beachfront development will feature a range of activities.
Consisting of green and sandy hills, public facilities, retail and dining spaces and parking lots, the promenade will also contain a series of small islands partially reclaimed and floating pontoons/platforms, providing additional seafront facilities. The floating zone will add 27,000m2 to the total beach area of the project.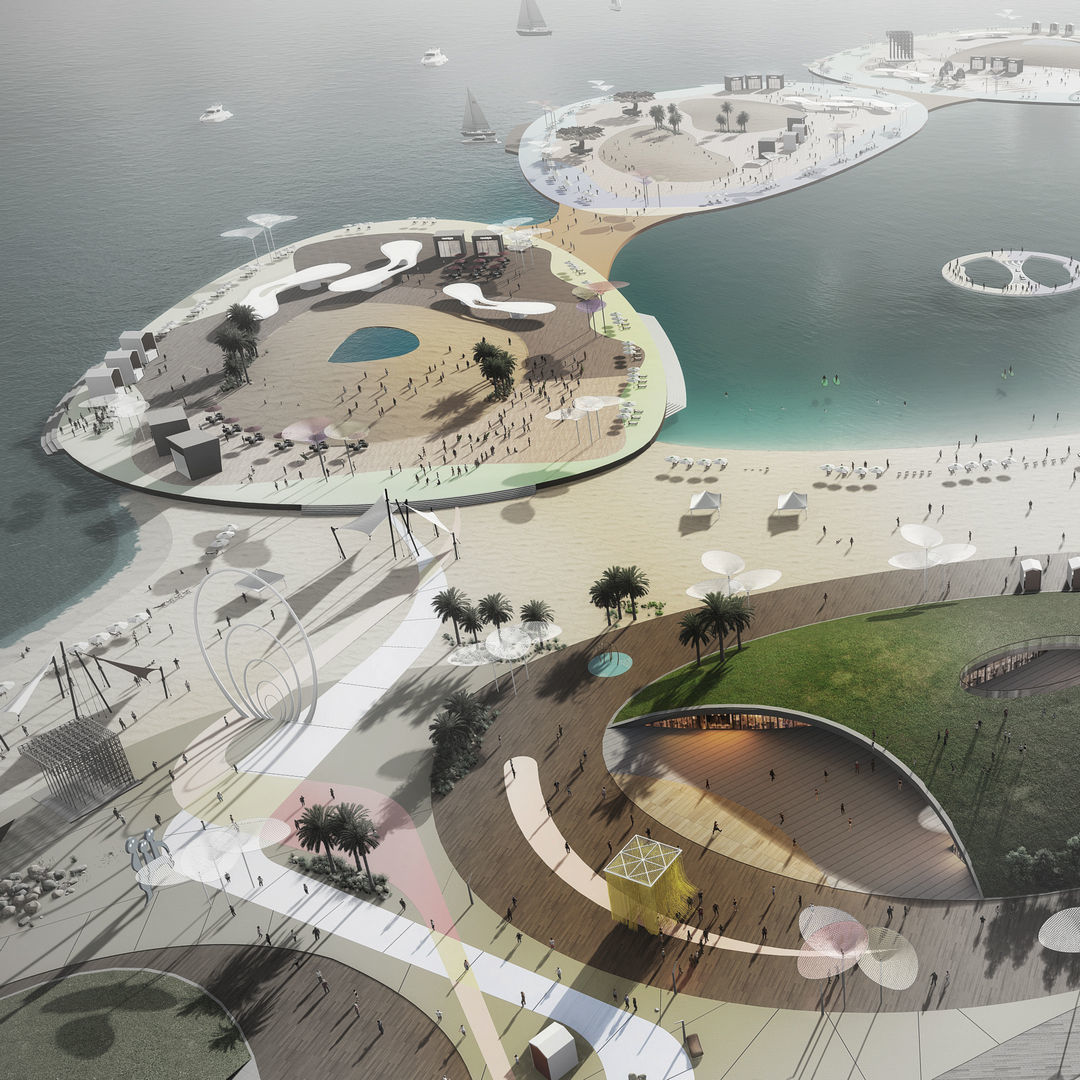 Deira Plaza
In areas that face high traffic volume and congestion, an attempt to encourage more vibrant public realm activities is needed to assist in mitigating the unfriendly pedestrian environment, said the architects.
Deira Plaza is designed to promote environmentally comfortable public spaces by offering an urban plaza programme without compromising the much-needed vehicular parking facilities for residents and visitors.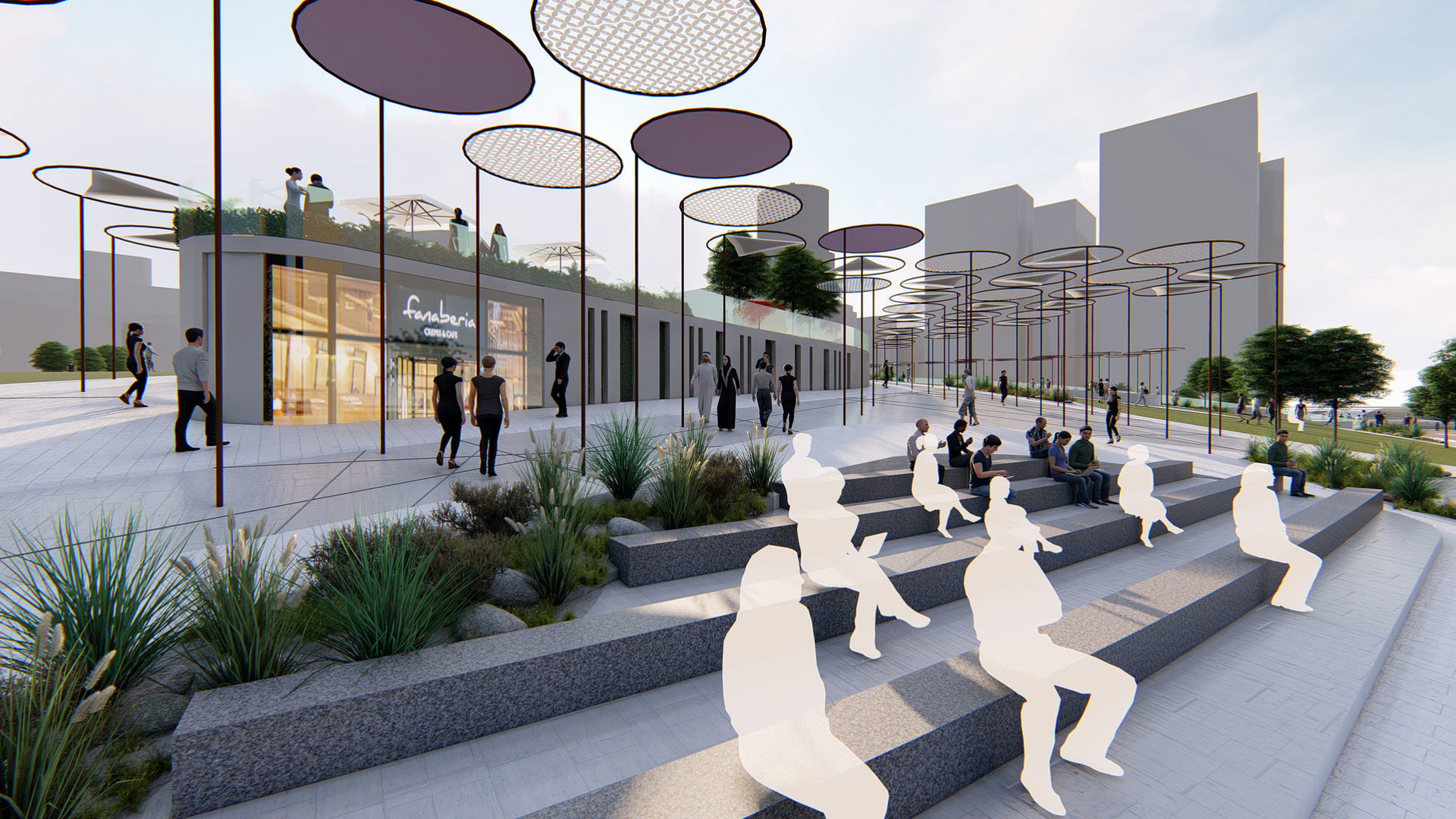 The 35,000m2 plaza will provide a multi-layered public space for entertainment and community activities. The design sensitively increases the parking numbers to around 1,000 spaces, as well as includes a series of urban parks, performance and event facilities, and food and beverage outlets.
"Such urban squares as pockets play a very important role in social life," said Cengiz, "not only by serving its community but contributing to creating a vibrant, dynamic and liveable city."
Skypods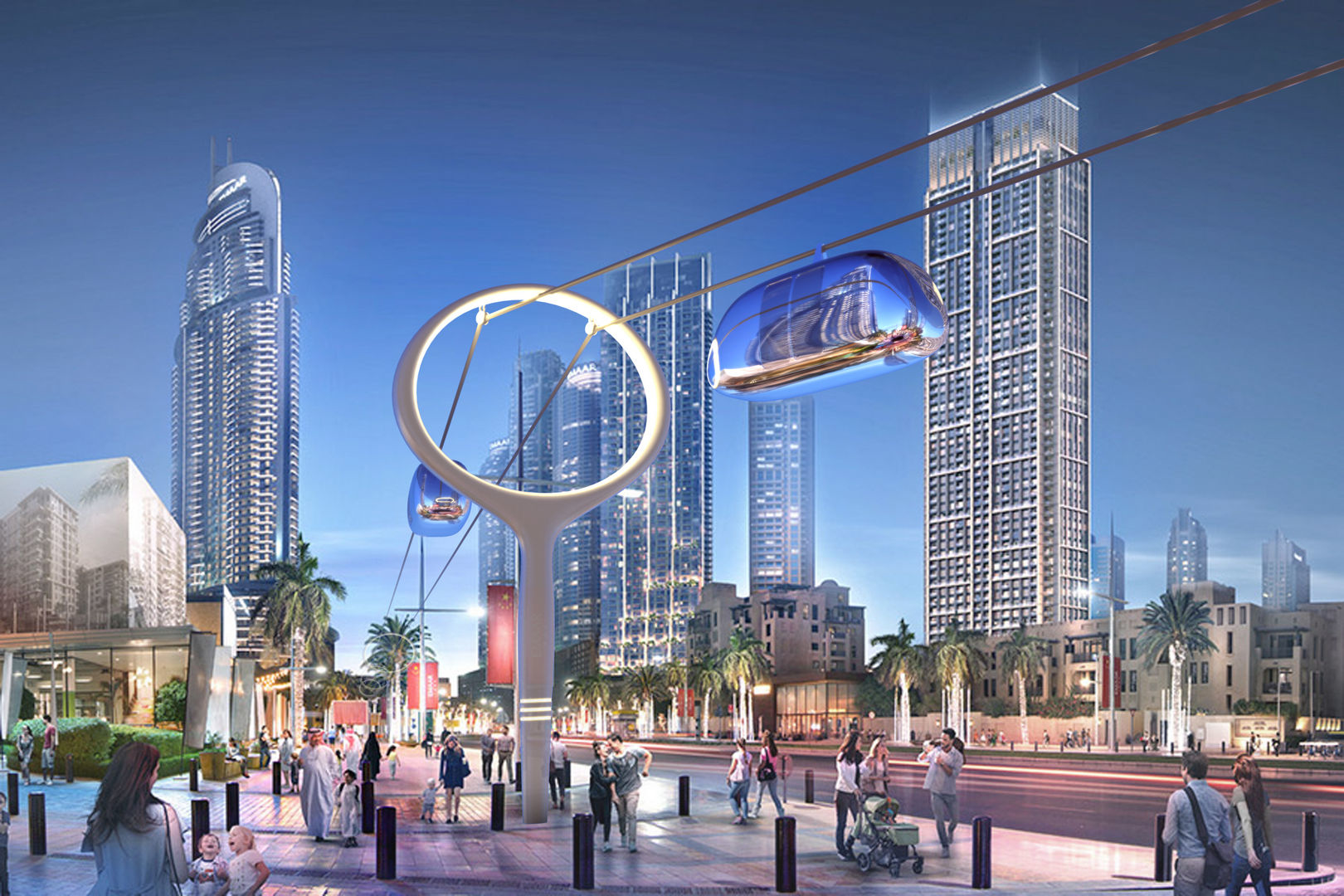 Linking spots across the city, such as the Dubai Financial Centre, Downtown Dubai and Business Bay, Skypods, a suspended transit system, will pass through Happiness Street and run up to City Walk.
Its tracks will extend one kilometre in length, while the project will boast 21 stations and the capacity to transit 8,400 riders per hour per direction.
The cable car network will be integrated with the city's wider transport system, adding a futuristic feel to the urban transit experience.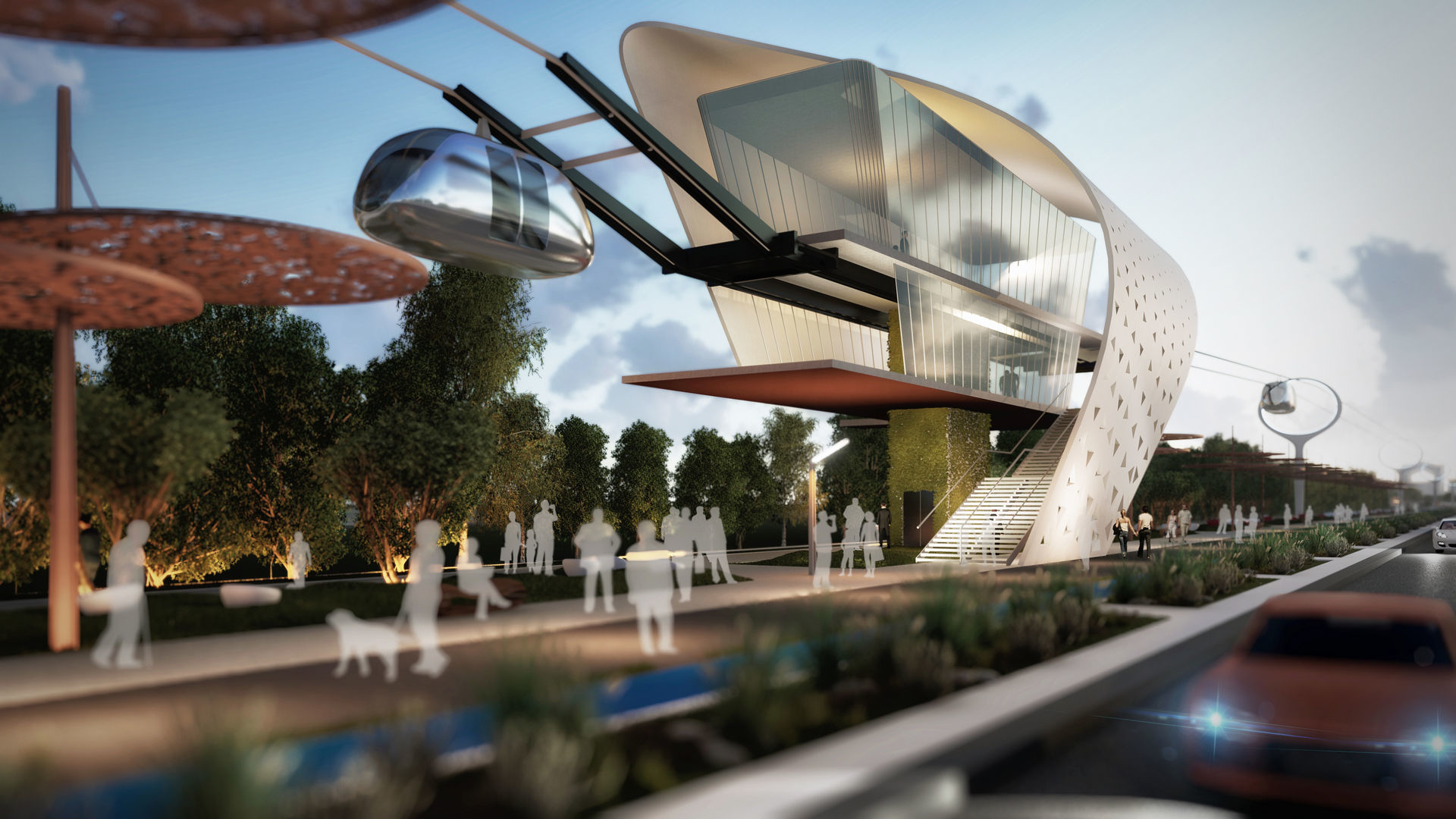 According to LWK+PARTNERS, the cable stations were designed to be light, efficient and in harmony with the current metro stations' appearance and form. The approved designs and the support structure systems, they said, complement Dubai's streetscape without adversely impacting the skyline.
"It's imperative that we invest in the new modes of public movement if our cities are to remain functional, liveable and free of congestion," Cengiz said. "One such way is the suspended mono-rail. It is fast, agile and an efficient mode of transport suited to the demands of 21st century metropolises."
Umm Suqeim Pedestrian Bridge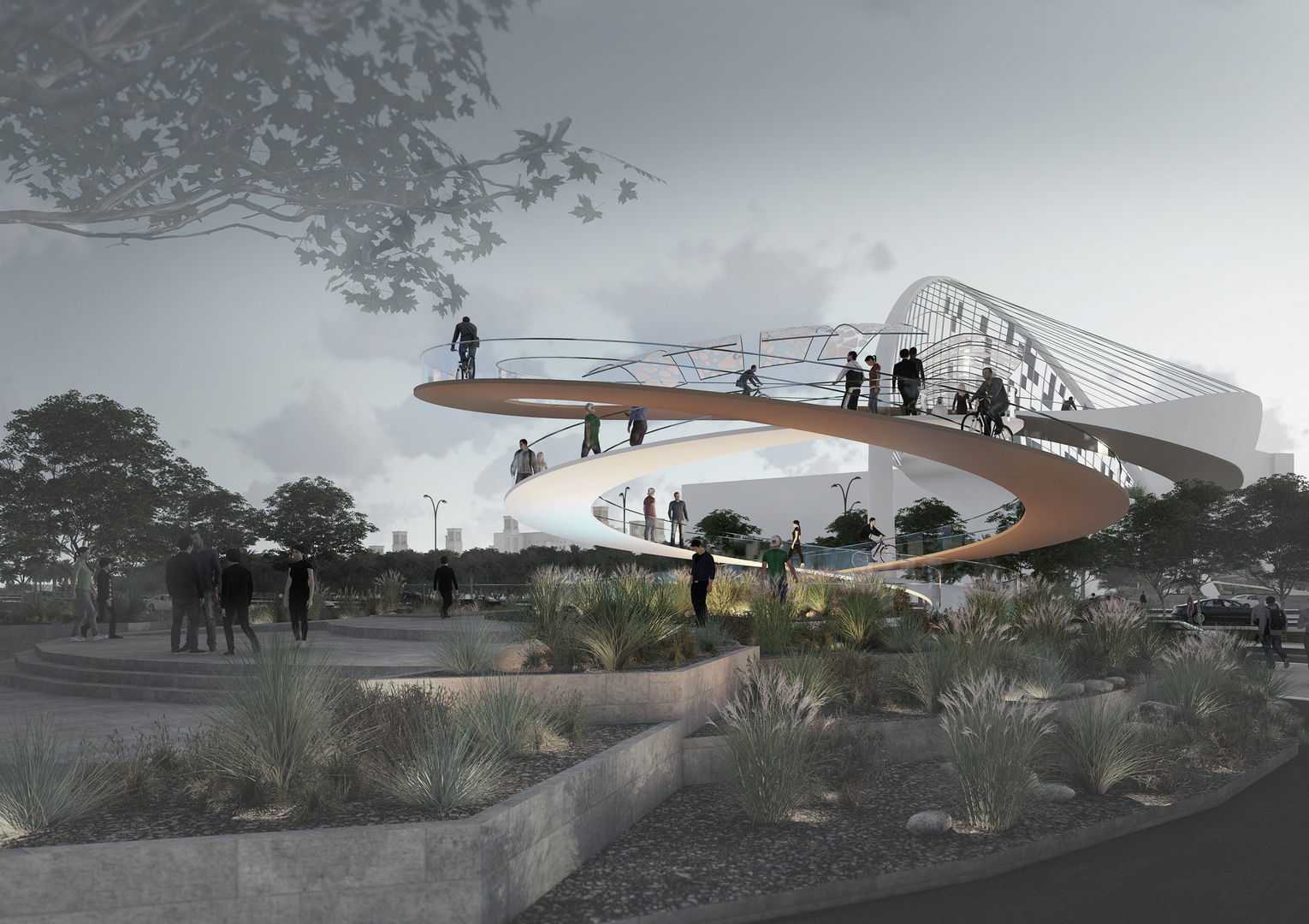 The 110m pedestrian bridge set above Jumeirah Street will feature dedicated cycling and running lanes, and facilitate better connectivity between Umm Suqeim and Jumeirah.
Aiming to encourage pedestrian activities and promote safe and environmentally comfortable public spaces across the city, the bridge will link key destinations including Madinat Jumeirah Souq to Mall of the Emirates Metro, and across to Dubai Hills Mall.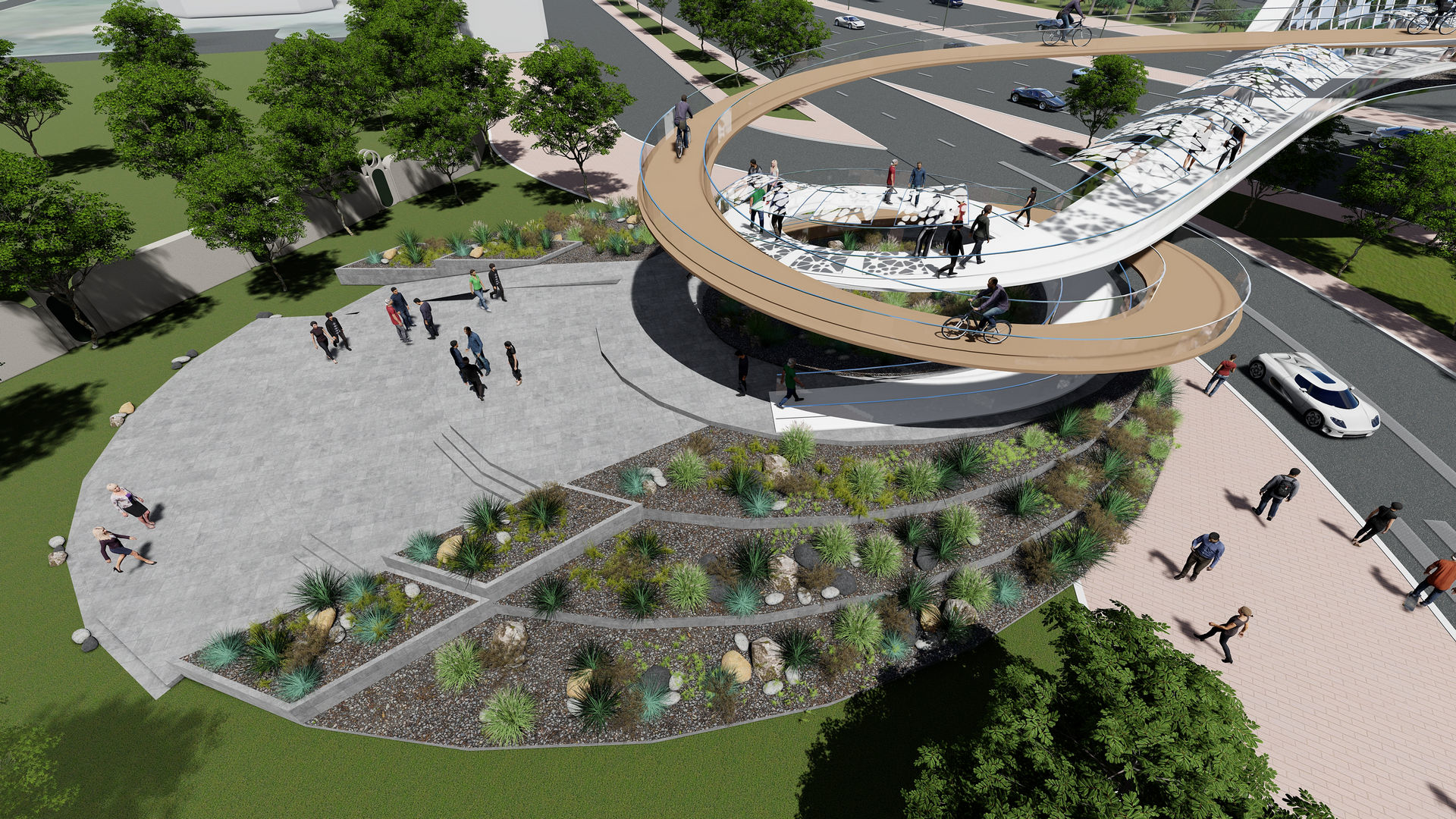 "Bridges can be more than simple structures," said Salehi. "Their role is vital in connectivity, hence it is important to find new ways of utilising them. Bridges can showcase a lot more than their architectural language."
"Improving mobility is not only a potential solution to improve transportation services for residents," added Cengiz. "It's also an opportunity to connect valuable urban spaces across the city, which could be better used to cater to public needs and raise liveability standards."