Seven modernist buildings in the UAE
Though modernism as an architectural and urban ideology started in the beginning of the 20th century, it hadn't manifested in the UAE until the 1950s, when the country's nomadic settlements had begun transforming into more permanent urban communities. 
Following the discovery of oil and the country's formation in 1971, the UAE began expressing its own variation of modernism, responding to climate, culture and local customs. 
While known for its clustered cities and tall towers, the Gulf country is rich with modernist buildings that were once local landmarks, built by international architects as well as regional Arab architects. Though some have been forgotten and others appear swallowed up by their surrounding urban fabrics, they remain markers of the country's history of development. 
Here, we look at six modernist buildings (and one metabolist) from across the UAE, and explore their architectural importance. 
Rashid Hospital (1973), Dubai
John R Harris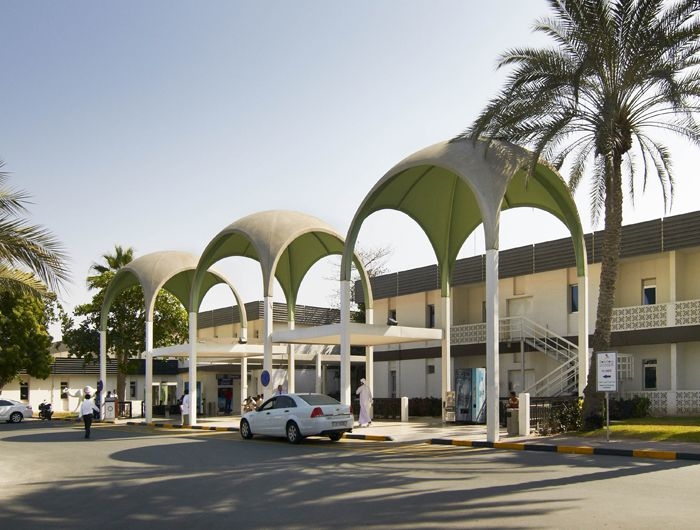 Designed and built in the mid-1970s, Rashid Hospital, which sits on Dubai's Oud Metha Road near the creek, was designed by British architect John R. Harris -- the same architect behind Dubai's World Trade Centre. 
The L-shaped modern healthcare facility consists of in- and out-patient services, a maternity clinic, and training facilities for medical personnel. It also contains housing quarters for the hospital staff.
Featuring narrow windows, archways and human-scale volumes, the hospital's most notable design feature are its swollen arches that stand over the entrance. 
In addition to Rashid Hospital and the World Trade Centre, Harris also designed two masterplans for the emirate (in 1960, and again later in 1971. He also devised a masterplan for neighbouring emirate Abu Dhabi.
In 'Informal Encounters: Mapping Abu Dhabi's Urban Public Spaces', architect and historian Yasser Elsheshtawy wrote: "An examination of some of his recommendations and the prepared masterplan reveals that he is not trying to erase the 'existing city' -- but instead his additions attempt to blend the new city centre with the existing morphology."
Dubai Petroleum (1978), Dubai
Victor Hanna Bisharat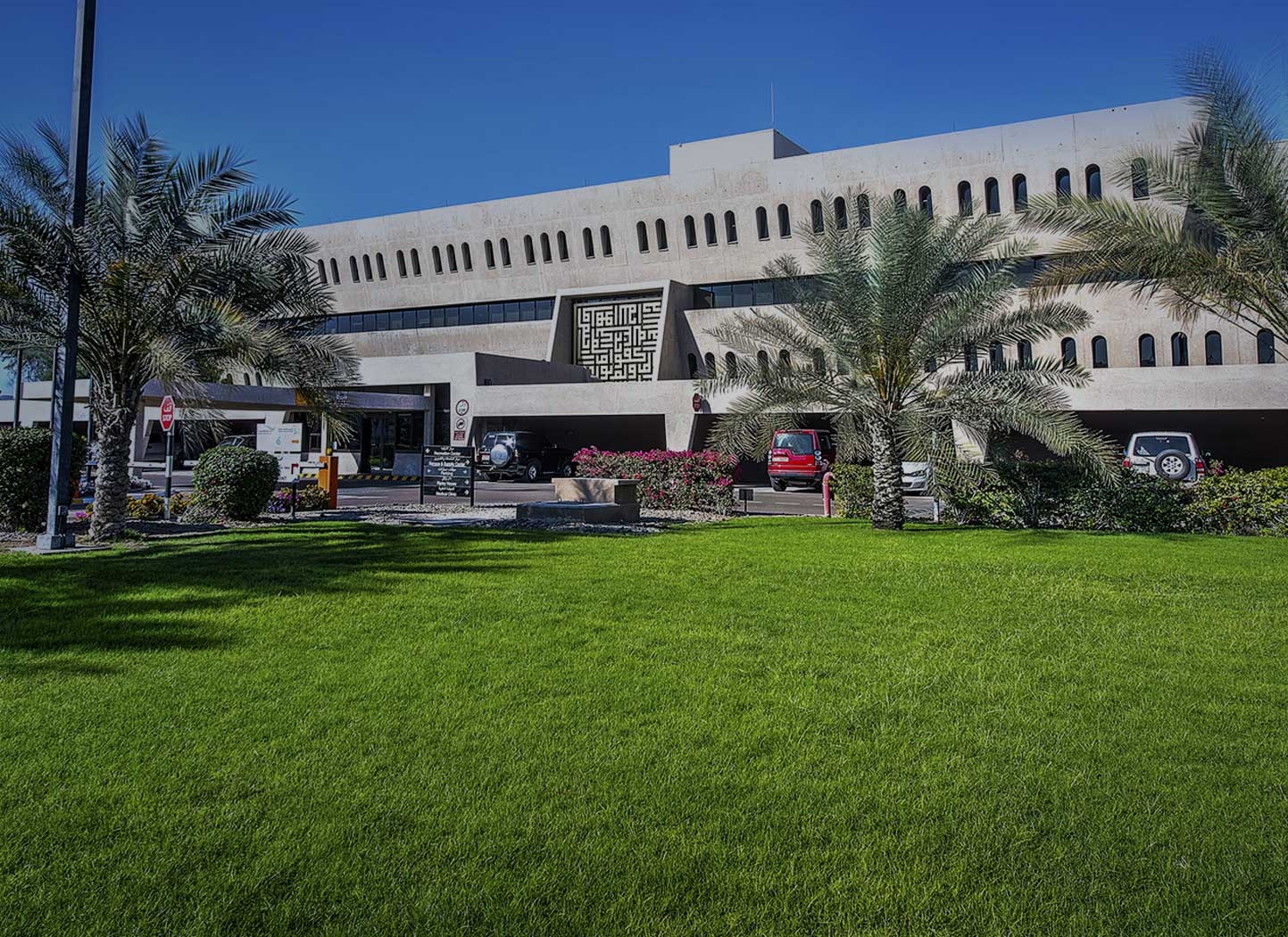 Designed by Arab-American architect Victor Hanna Bisharat, the Dubai Petroleum building sits on the north-west side of Dubai's Sheikh Zayed Road. 
Serving as the headquarters of Dubai Petroleum since 1978, the four-storey building, which conceals a courtyard, features Kufic golden script on a vertically standing structure located above the building's entrance. Its ornamental design continues to the roof, which contains 15 hexagonal stars that welcome natural light into the building's lobby.
Bisharat, who was born in Es Salt, Jordan, was known for impacting the skyline of Stamford, Connecticut in the US. He also had projects in Lebanon and designed the Pavilion of Jordan at New York's World Fair in 1964.
Obeid Al-Mazru'i (1980s), Abu Dhabi
Architect unknown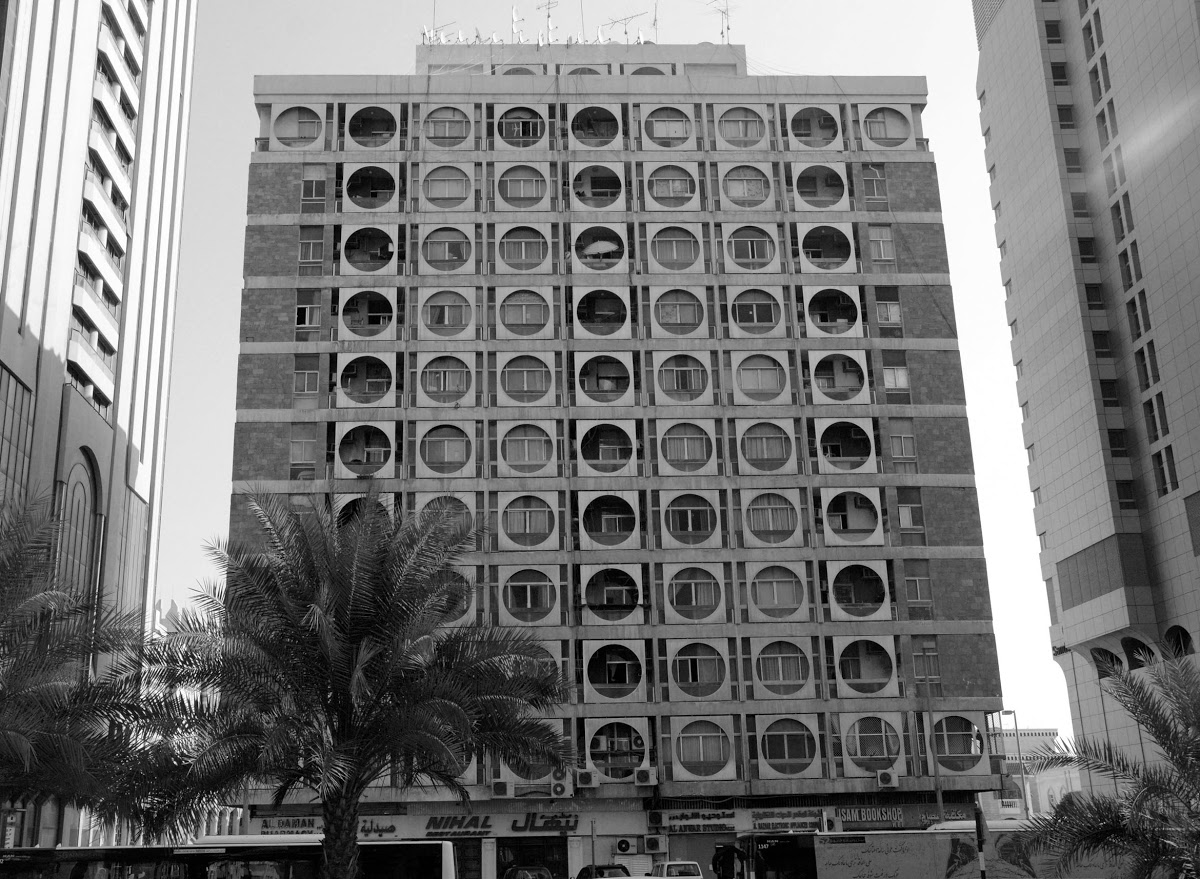 Located on Abu Dhabi's Electra Street, Obeid Al-Mazru'i was named after the building's owner by residents and locals, as its original name, construction date and architect remain unknown. 
The building features a circular pattern on its outer facade, which frames the building's windows and balconies, and blocks direct sunlight and heat from entering the individual units. Painted white, these frames likely created a gentle contrast against the beige hue of the fresh concrete when the building was still new. 
Beneath the building sits a number of usual community stores including a book shop, restaurants, a printing press and a pharmacy. 
Entry to the building was placed in the back, which opens up to an austere lobby that features dark granite flooring. 
Al Bateen Mall (1986), Dubai 
Technoexportstroy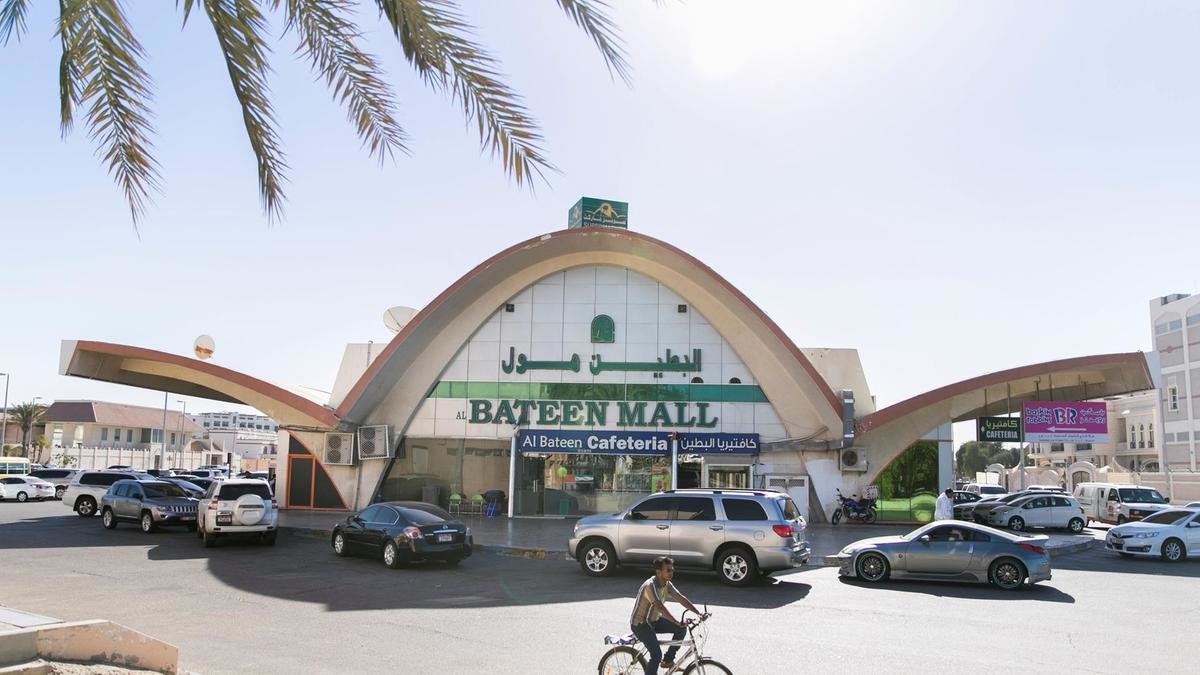 Designed by Bulgarian architecture, engineering and construction firm Technoexportstroy, Al Bateen Mall was part of a larger complex of buildings and structures that also included the Abu Dhabi Central Bus Station and a tourist club.
Featuring a parabolic main structure with sweeping cantilevered canopies, Al Bateen Mall originally opened as a bus station itself. By the mid-1990s, it was converted into a shopping mall and today, it contains a cafeteria, supermarket and a handful of shops.
Al Bateen Mall was built at a time when residents of Abu Dhabi were moving towards central areas and more infrastructure was needed to accommodate the constant transport. Its architects were also responsible for the Gold Mohur Hotel in Aden, Yemen; a stadium in Benghazi, Libya; and the Rastan Bridge in Homs, Syria.
King Faisal Mosque (1987), Sharjah
Abdul Rahman Abdul Hafidh Al Junaidi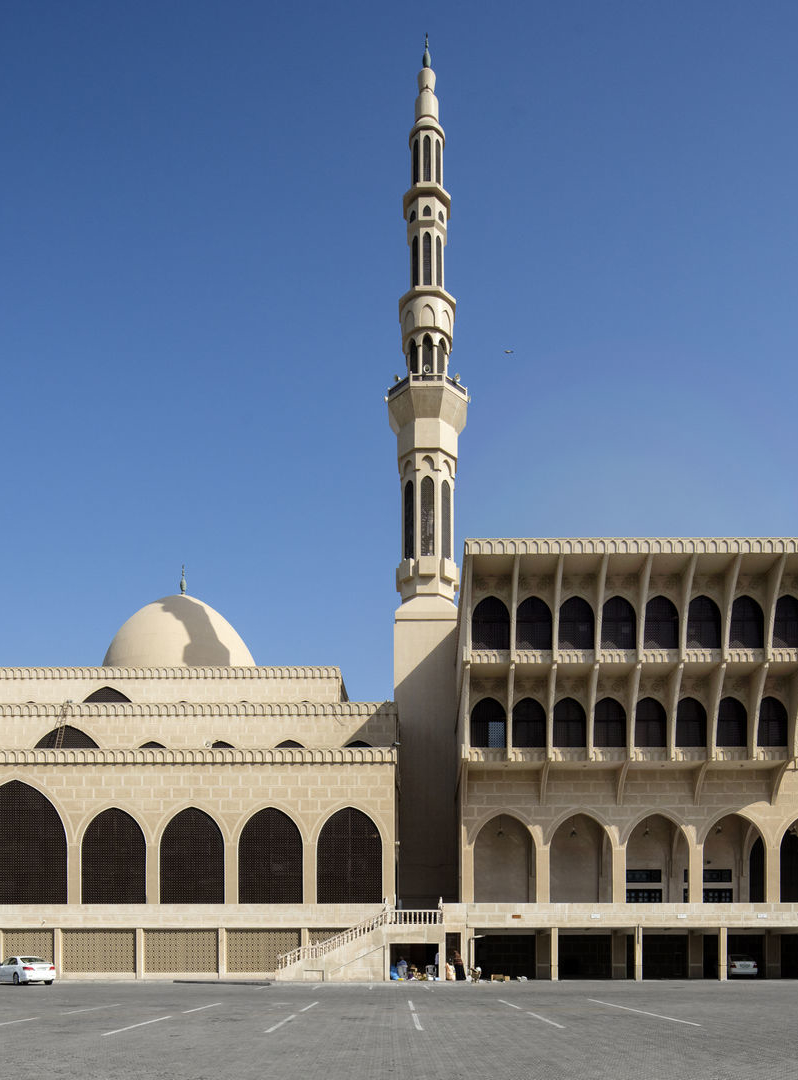 Designed by Saudi architect Abdul Rahman Abdul Hafidh Al Junaidi, the King Faisal Mosque sits on Sharjah's Al Itihad Park, adjacent to King Faisal Street and Al Arouba Street. 
Featuring two minarets that reach a height of 70m each, the 12,000m2 mosque can accommodate 16,670 people and contains a central courtyard. Inside, a series of columns help worshippers determine the placement of the rows in which they pray. 
According to Sultan Sooud Al Qassemi, who wrote about the mosque and its architect, the second floor, which is occupied by the Sharjah Department of Islamic Affairs and Awqaf, also contains a library with thousands of books on Islamic history and thought. 
Abu Dhabi Central Bus Station (1989), Abu Dhabi
Georgi Kolarovis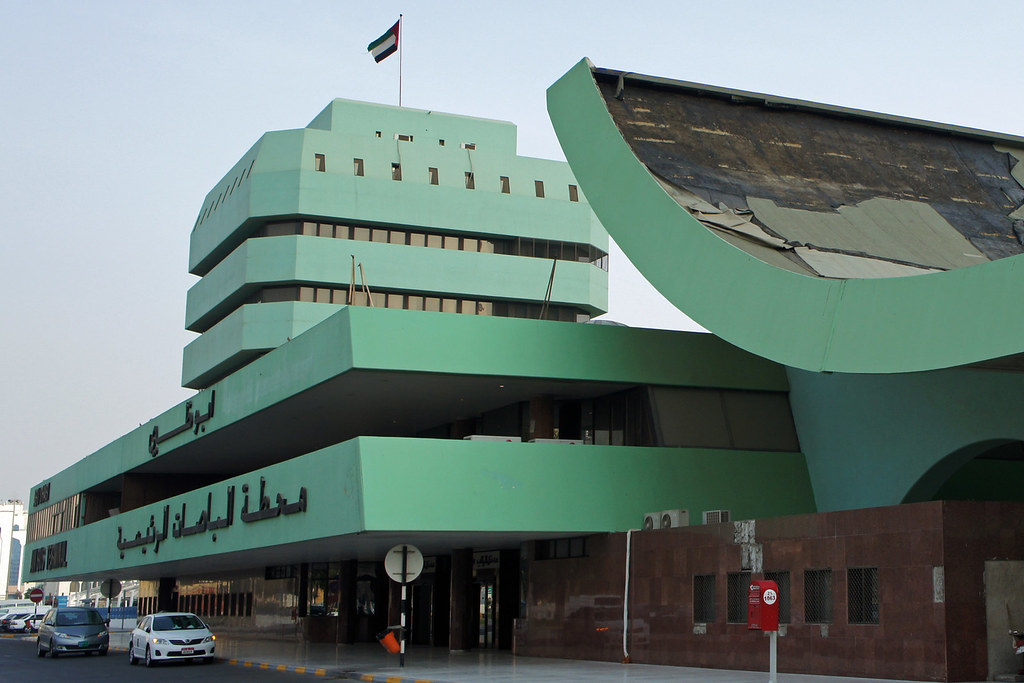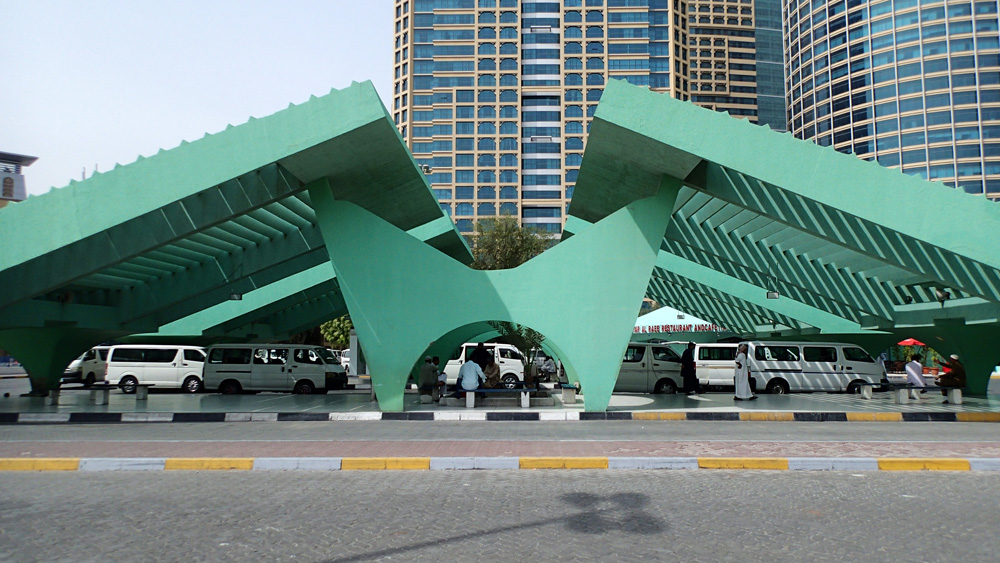 Built at a time when urban travel within the emirate began overwhelming the existing transport infrastructure, the Abu Dhabi Central Bus Station consists of two U-shaped structures that overlap and face opposing directions. 
Painted mint green, the building has a control tower that sits at one end, while the four prongs extend outward, providing shade and space for passengers to rest. 
The building's architect, Georgi Kolarovis, was Bulgarian and he had recently branched out from Technoexportstroy (the architecture firm that designed Al Bateen Mall) and established Bulgarconsult.
Al-Ibrahimi Building (1980s), Abu Dhabi
Farouk El Gohary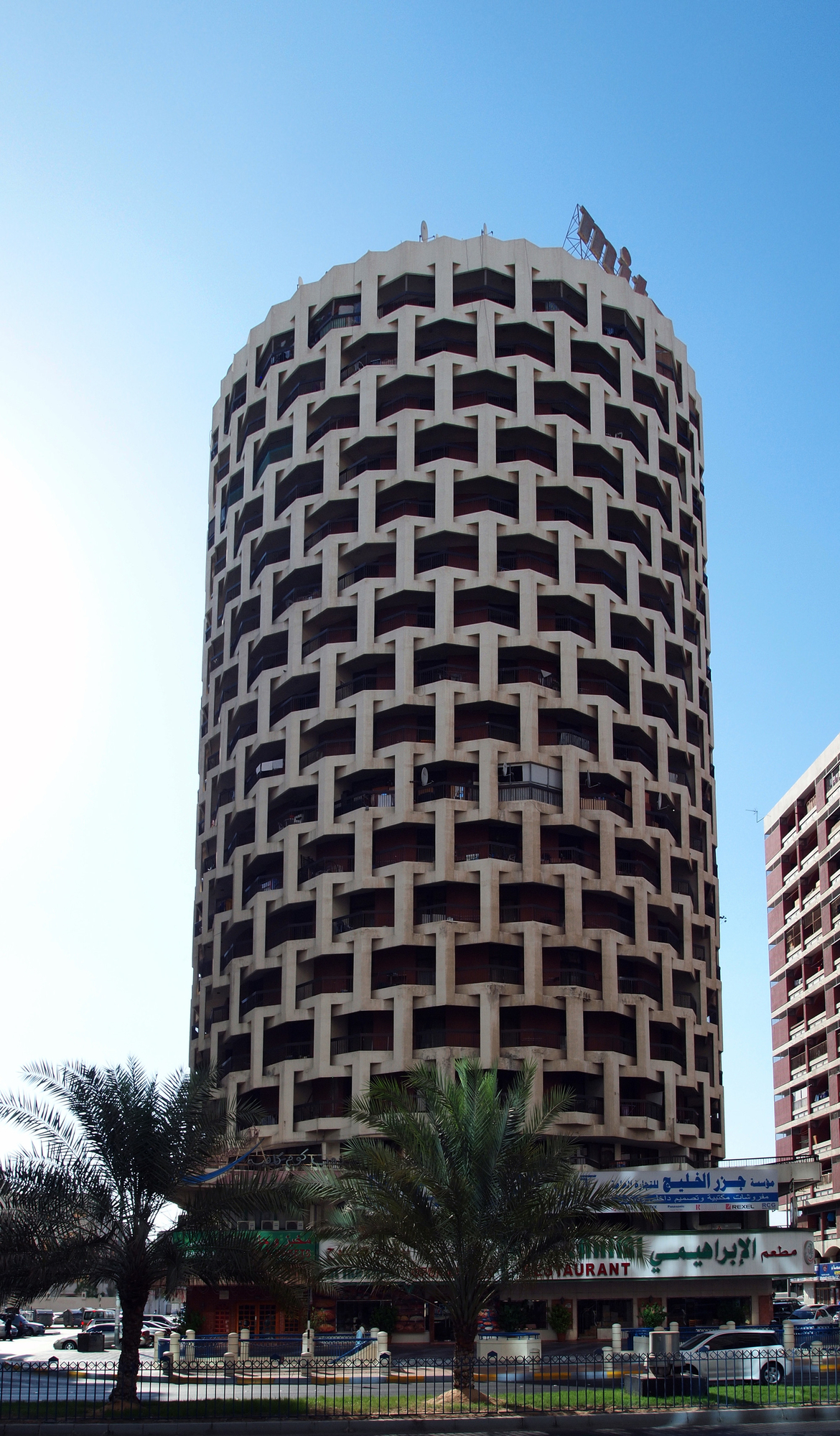 While not a modernist structure, Al-Ibrahimi Building by Egyptian architect Farouk El Gohary is a stone's throw from the Obeid Al-Mazru'i Building on Abu Dhabi's Electra Street. 
The 16-storey metabolist building features a facade that consists of interlocking cubes tilted at an angle. One side of each cube juts outward which extends into a column connecting to the cubes below or above, while the roof of each cube serves as a balcony.
On Forming Intersections & Dialogue, a cultural platform launched by NYU Abu Dhabi, Layo Olayiwola wrote of the building: "The interplay between projections and recessions demonstrate the architect's skilful manipulation of light and space. It is difficult to know where the art of the building ends and where its architecture begins."