Sharjah ruler reveals Foster + Partners-designed cultural centre
Dr Sheikh Sultan bin Muhammad Al Qasimi, Ruler of Sharjah, has unveiled plans for a library and cultural centre, at the core of which stands a 36.5-metre high sculpture by UK-based artist Gerry Judah.
Designed to offer a sense of clarity and lightness, the two-storey House of Wisdom project, designed by Foster + Partners, will feature a large floating roof cantilevering on all sides of a transparent rectilinear volume.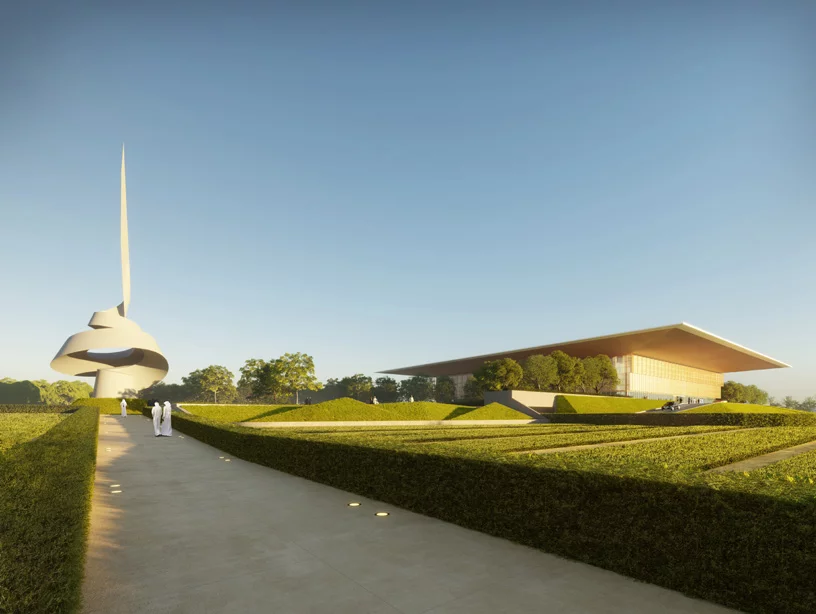 Located 10km from Sharjah's city centre, the 'House of Wisdom' will join Judah's 'The Scroll', a recently completed piece of public art inspired by an ancient scroll design.
"Gerry's sculpture is a perfect complement to the minimalist geometry of our building," said Gerard Evenden, head of studio at Foster + Partners. "Long considered primarily as repositories for books and periodicals, the role of libraries in the life of contemporary communities is set to be re-imagined for the 21st century. The house of wisdom conceptualises the library as a social hub for learning, supported by innovation and technology."
The library and spiralling sculpture are being developed by the Sharjah Investment and Development Authority, and celebrate Sharjah's status as the UNESCO World Book Capital 2019.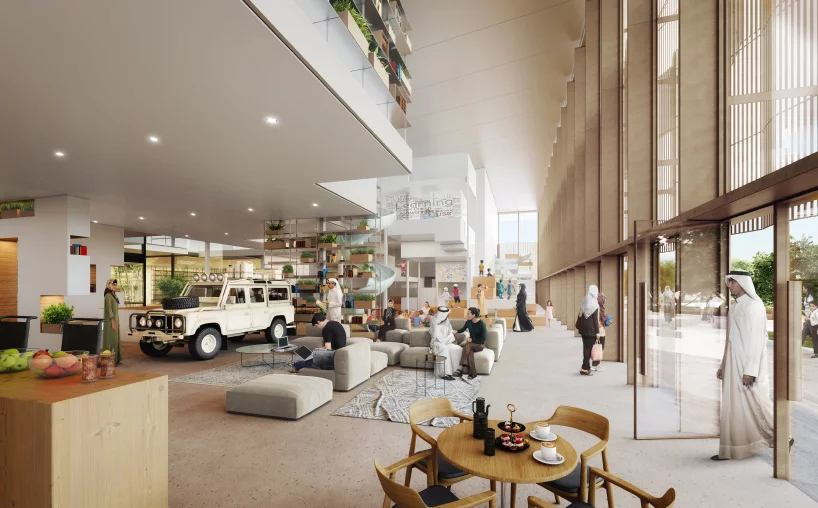 The 15m wide overhang shades the building's facades throughout most of the day, said the architects, while aluminium screens filter the low sun in the evenings. Visitors are welcomed into the building from its western edge, through a double-height reception hub with a central courtyard that brings light to the interior spaces. 
The building's ground floor contains large spaces for exhibitions, a cafe, children's education space, archive and a reading area, with facilities such as a printing machine that also binds books on demand.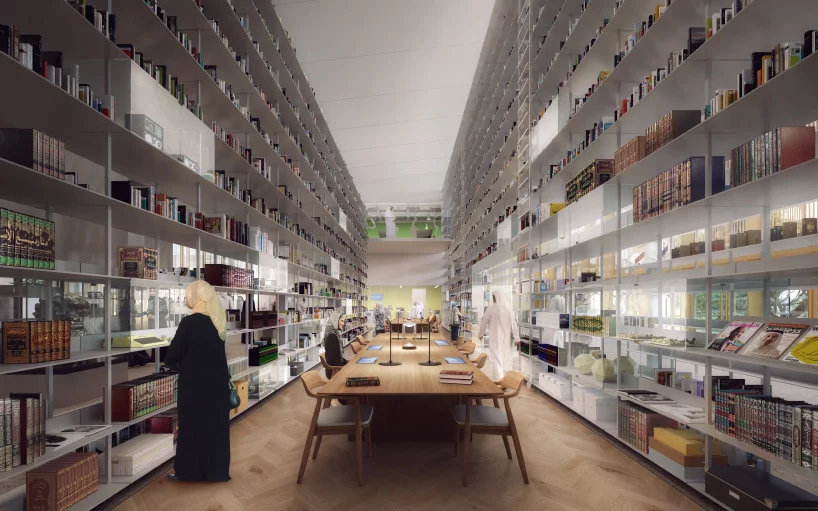 The library's floating roof is supported by four cores that also contain all the centre's back-of-house and service spaces, creating a large column-free floorplate. While two cores contain large sculptural staircases, the upper floor hosts a series of spaces suspended above a central courtyard, offering quiet and collaborative areas, exhibition spaces and reading lounges. 
The centre's landscape is split in two sections, one of which contains 'The Scroll', a contemporary interpretation of the ancient Arabic scrolls made of rolled steel plates.