Italian Pavilion for Expo 2020 Dubai features roof with overturned ships
 The design of the Italian Pavilion for Expo 2020 Dubai has been revealed, drawing inspiration from ships and sailors to communicate a theme of connectivity across the world, Construction Week Online reported. 
The project has been designed by a consortium of Italian firms including architecture firm Carlo Ratti Associati (CRA), Italo Rota Building Office, F&M Ingegneria, and Matteo Gatto & Associati, beating 18 other concept proposals.
Located between Expo 2020 Dubai's Opportunity and Sustainability Thematic Pavilions, the Italy Pavilion is expected to have a daily footfall of 28,000 people, with five million visitors expected during the course of the next World Expo, which opens its doors on 20 October, 2020.
The exteriors of the pavilion will comprise three ships overturned and raised sideways on tall pillars, making them the roof of the entire pavilion.
Painted in colours signifying the Italian flag, the three hulls of the ships, when seen through a bird's eye-view, will appear like three petals, according to Italy at Expo 2020 Dubai.
Since the pavilion is located close to an open park, no structures will hinder views of its front- and side-walls.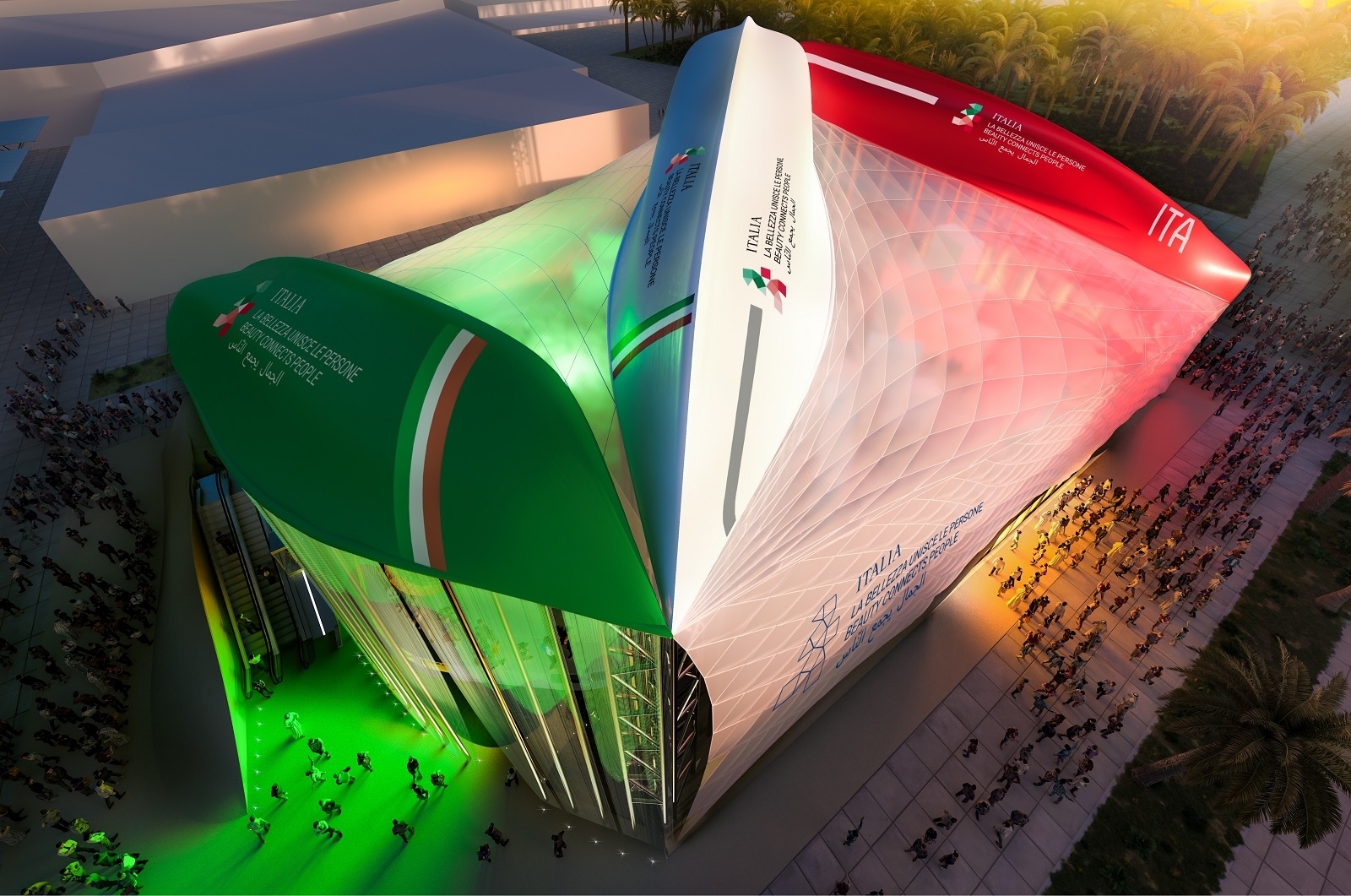 Commenting on the use of overturned-ships as the roof of the pavilion, Carlo Ratti, founding partner of CRA and director of the MIT Senseable City Lab at the Massachusetts Institute of Technology (MIT), said that the three structures will be used in 'different ways' even after the end of the six-month long expo.
Ratti added that "overturning the hulls is based on sustainability and circular architecture concepts".
"There will be a 'prologue' with large spaces inspired by the forms of important Italian piazze, and a 'grand finale' that will be almost like a cathedral to nature, light, [and] the music of the universe, like the sky over the Mediterranean and the desert," said Italo Rota, founding partner of Italo Rota Building Office.
The pavilion's architecture draws from the historical tradition of ocean-going populations and fishermen from Europe and the world.
"The project allows us to realise not only an exhibition space, but a space that represents the best of Italian ingenuity," said Paolo Glisenti, general commissioner for Italy at Expo 2020 Dubai.
"The Italian Pavilion will be [delivered] with the contributions of partner companies – large, medium, and small – to provide the best structural, engineering, technological, and scenographic components that [can contribute to] sustainability, the circular economy, and digital architecture."
The country pavilions of India, Germany, Saudi Arabia, Japan, and the US will be constructed near the Italian pavilion, which will span 3,500m2 and be 25m tall.