OAOA designs a luxury masterplan project for Aqaba, Jordan
Created around a series of manmade lagoons on the Gulf of Aqaba in Jordan is a recreational and residential community consisting of 77 villas, four islands and one beach.
Designed by London-based multidisciplinary practise OAOA, headed by architect Omar Al Omari, Ayla Peninsula Islands spans a total area of 4.3 million square metres and maintains panoramic views of the Red Sea and the marina lagoon.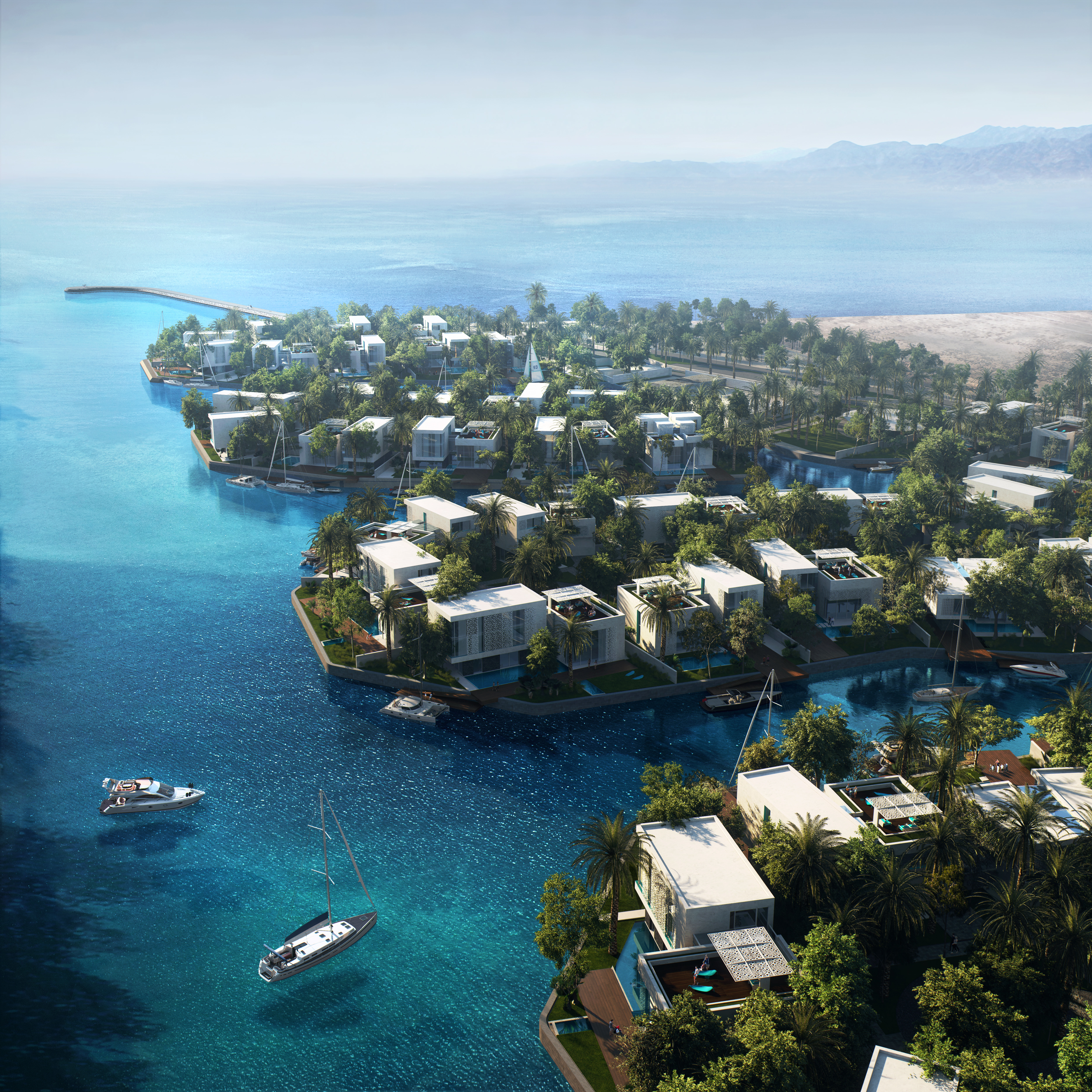 According to the architects, the masterplan differentiates between its various zones, avoiding the usual repetitiveness common in large scale developments. The masterplan achieves its distinct neighbourhoods through the use of various public landscapes, which includes white sand beaches, landscaped gardens, parks, playgrounds, and sports and leisure facilities.
The villas, which are positioned on 150,000m2 of organically shaped islands at the breakwater entrance, are designed using an adaptable modular strategy – each villa module consists of two wings connected by a flexible glazed atrium that allows them to align to the different plot shapes, creating a courtyard and maximising the garden area.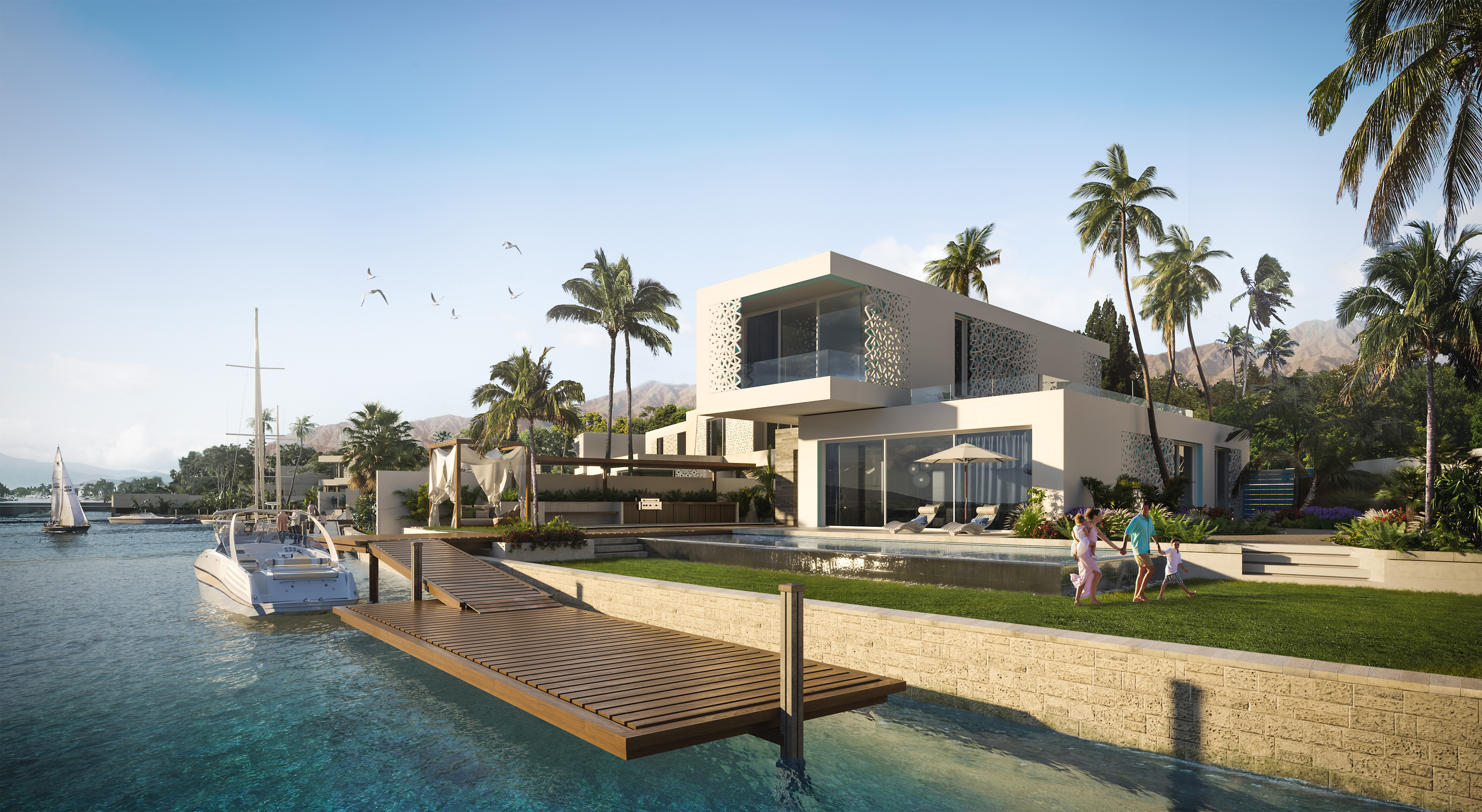 According to the architects, the two wings are shaped and positioned differently on each site, taking full advantage of the views and generating different building forms and a varied masterplan massing. With one of the wings raised, additional shaded green spaces are created with easy access to the roof terrace and panoramic sea views.
The facades of the villas are solid to eliminate possible overlooking from neighbouring buildings, while bespoke screens are utilised for added privacy and protection from direct sunlight wherever needed.
"The screens are specifically designed to dissolve from the solid sides and gradually open up towards the views, blending the envelope of the building with its surroundings," said the architects. "Different villa types have distinct contemporary patterns, abstracted from traditional Middle Eastern architecture, further differentiating the modules and offering variation and choice for the individual residents."
Throughout, the landscape follows the minimal rectilinear language of the architecture and blurs the boundary between the inside and outside spaces by allowing clean open views, utilising a consistent materials palette and bringing the greenery into the villa.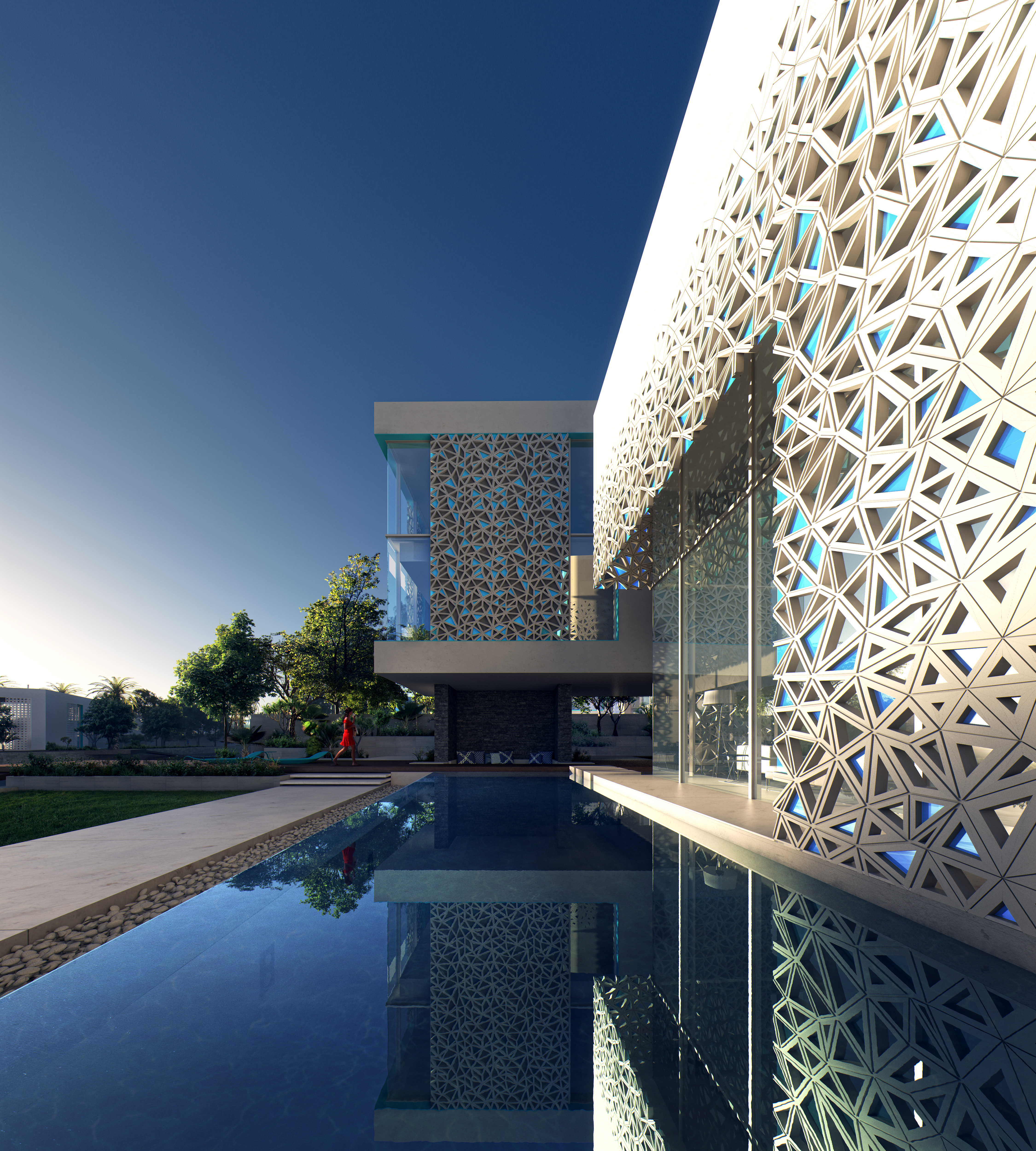 Each villa, which spans 550 to 850m2, has ample garden space, a private overflow pool, water features and amenities including a BBQ area and a sunken seating area. Their interiors are finished with high grade materials and fittings and a minimal design that is complemented by a soft white palette.