350 villas bought by GCC investors in Turkey's now suspended luxury development
Construction on hundreds of chateaux-style villas in Turkey's $200 million Burj Al Babas luxury development has been suspended after the developer, Sarot Group, filed for bankruptcy in September 2018. 
Having attracted around 350 buyers from Gulf countries, including Bahrain, Kuwait, Saudi Arabia and the UAE, the residential development in the Mudurnu district of Turkey's Bolu province features 732 villas, a shopping centre, hotel, mosque and public spaces. 
With construction on the project having begun in 2011, the houses have been left in various states of completion following the collapse of the developer, which cited a debt burden of $27 million, according to Hurriyet Daily News. 
Chairman of Sarot Group, Mehmet Emin Yerdelen, said the court had "now decided on bankruptcy" as the firm's status, calling the move "a wrong decision".
According to the Hurriyet report, he continued: "We will object to this decision. We still have 250 villas completed and ready to go on sale. Selling only 100 of them would be enough to pay off the debts and complete the project.
"We think that we will overcome the crisis in four or five months. We have been planning to open the premises partly in 2019," Yerdelen added.
Hurriyet further reported that the architecture of Burj Al Babas's buildings caused "public outcry on social media, especially because of its contrast with the Ottoman-style historical mansions of Mudurnu". The town, according to the report, was added to the Unesco World Heritage Tentative List in 2015.
The complex consists of three-storey houses designed in the style of mini French chateaux, complete with round corner turrets and square towers above their entrances. They are closely arranged on 324m2 plots.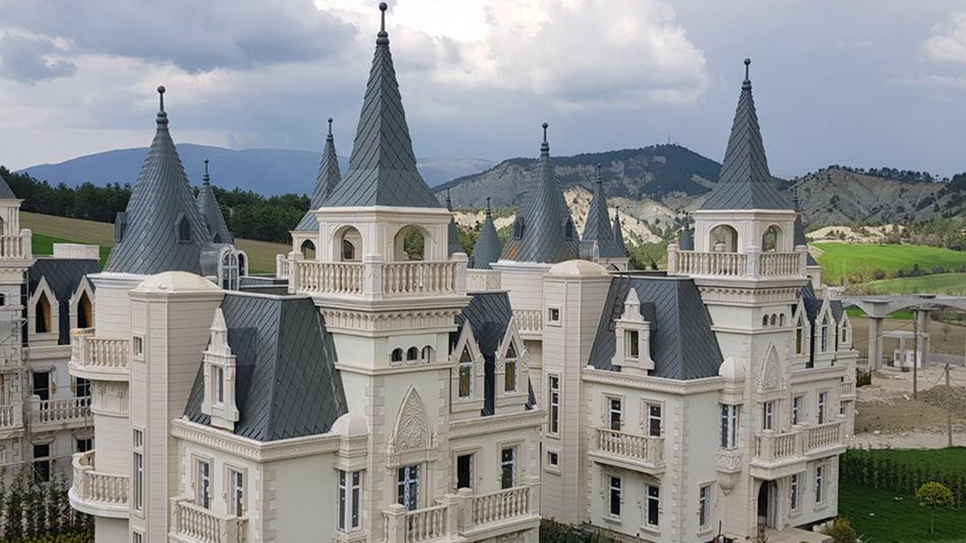 At the centre of the development sits a large classical domed building, still under construction, which was intended to house shops, cinemas, restaurants, conference halls, meeting rooms and a nursery. 
Burj Al Babas also planned to feature fitness facilities, Turkish baths, saunas, steam rooms and an aqua park, while basketball courts, tennis courts and football pitches would be built adjacent. 
Before the developer filed for bankruptcy, the houses were being sold for $370,000 to $530,000.