Top 10 pavilions revealed for Expo 2020 Dubai
With Expo 2020 Dubai drawing closer, more countries have begun to reveal their country pavilions, in addition to the three theme pavilions (Opportunity, Mobility, and Sustainability) designed by international practices including BIG, Foster + Partners, and Grimshaw. 
From pavilions that allow visitors to have a virtual experience of the Hyperloop One to ones that can self-generate a micro-climate, here is a round up of some of the recent country pavilions revealed for Expo 2020 Dubai. 
Sweden pavilion by Alessandro Ripellino Architects, Studio Adrien Gardère, and Luigi Pardo Architetti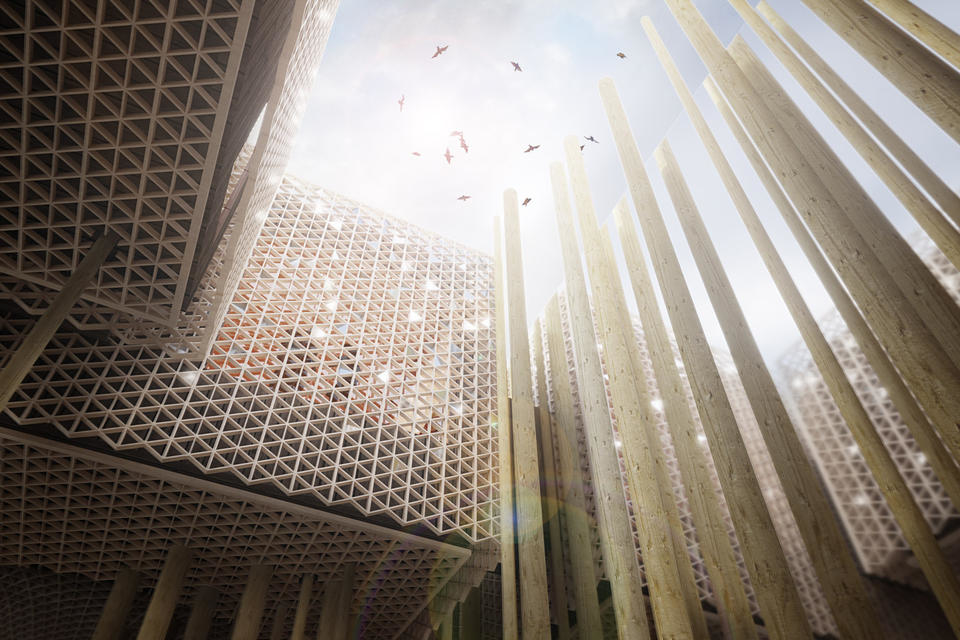 The Sweden Pavilion will feature tree houses as part of a design to recreate the Nordic forests of Scandinavia in the desert.
The pavilion will blend western and Islamic art styles by incorporating Swedish nature with Middle Eastern mashrabiyas, featuring hundreds of tree trunks that are set to rise from the ground floor, giving visitors the impression they are walking through a forest. Some of these trunks will support raised offices and meeting rooms, making them look like three houses. Read more about the Sweden pavilion here. 
UK pavilion by Es Devlin OBE and Avantgarde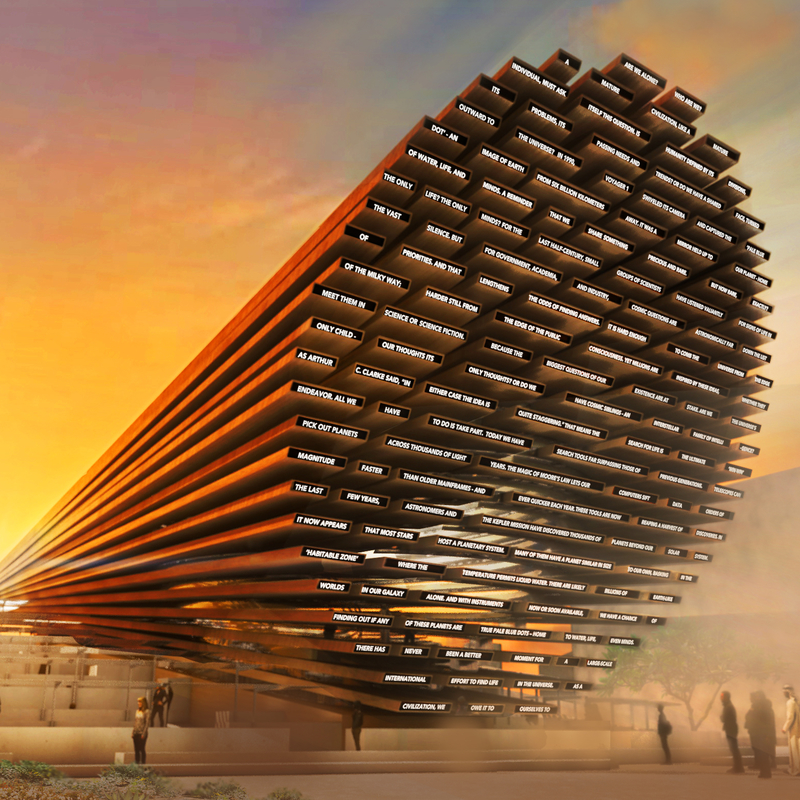 London-based designer and artist Es Devlin OBE will design the UK Pavilion to reflect "leading British expertise in artificial intelligence and space", according to a statement released by the artist.
Titled 'The Poem Pavilion', the project will be produced by London and Dubai-based global brand agency Avantgarde.
The pavilion directly draws inspiration from one of Stephen Hawking's final projects, 'Breakthrough Message', a global competition that Hawking and his colleagues created in 2015 which invited people worldwide to conceive a message that could be expressed to extraterrestrial life.
While the pavilion will feature an illuminated maze that features augmented reality exhibits on British advances in space and robotics, the interior will be filled with a collective choral soundtrack featuring choirs from every continent. Read more about the UK pavilion here. 
Brazil pavilion by ben-avid, JPG.ARQ, and MMBB arquitetos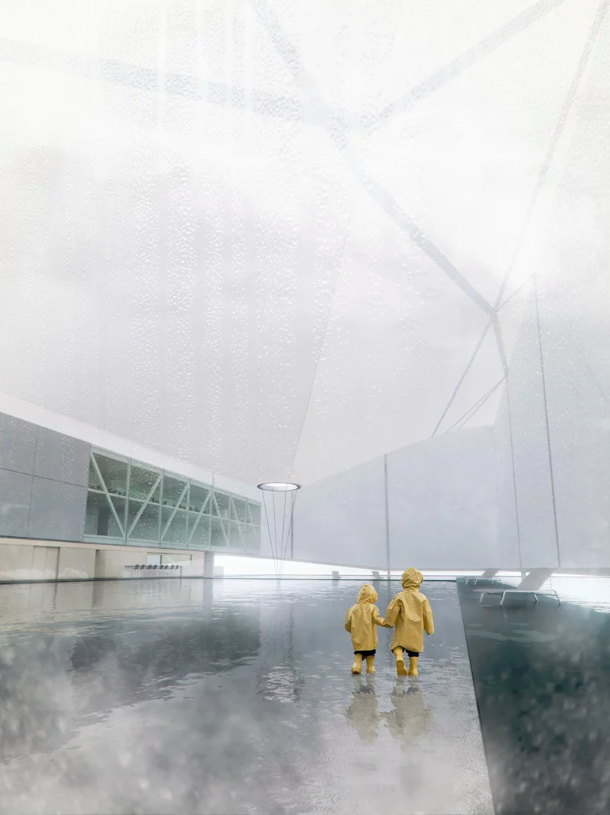 The Brazil pavilion is set to feature a central square with a tensile structure immersed in water to reference the county's rivers and mangroves.
The prominent use of water throughout the pavilion is used as a symbol for discussions centred on sustainability. 
The pavilion itself comprises a central square that is covered in a thin layer of water, and enclosed by a tensile structure enveloped in a lightweight white fabric. 
18.5 metres in height and 48 metres in width, the pavilion intersects with a dark walkway made of anti-slip black concrete that allows visitors to wander through the pavilion and immerse themselves in a sensory experience featuring projections, sounds, and scent.
The white fabric envelope showcases image projections of the country's various landscapes. Read more about the Brazil pavilion here. 
The Netherlands pavilion by V8 Architects, Kossmann.dejong, Witteveen+Bos and Expomobilia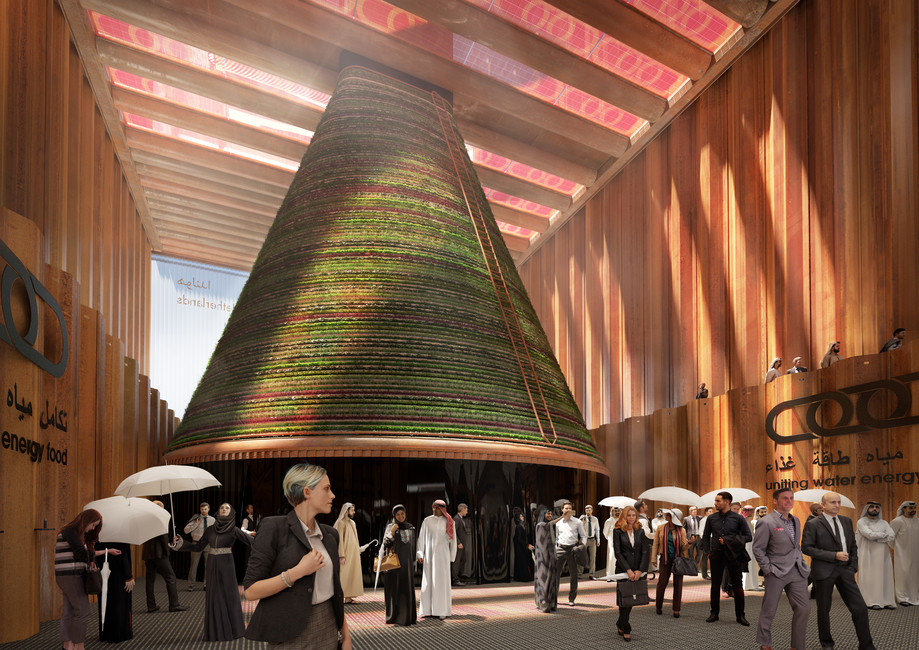 The Dutch pavilion comprises a 'climate generating' conical structure that showcases how water, energy, and food can be connected.
With a theme entitled 'Uniting Water, Energy, and Food', the pavilion aims to showcase 'home-grown solutions' that link issues of water, energy, and food – all while working closely with Gulf states in order to develop sustainable solutions that are appropriate for the latter's local eco-systems.
The innovations, knowledge, and expertise that is offered through the pavilion aims to aid the region in creating a greener, more sustainable future.
The pavilion itself comprises of a circular climate system – called a 'biotype' – which is set to provide visitors with "an intense sensory experience".
The 'biotype' is designed as a 'miniature world' which visitors can enter to experience a place where water, energy, and food are intrinsically linked, and where climate is controlled naturally. Read more about the Dutch pavilion here. 
German pavilion by LAVA and facts and fiction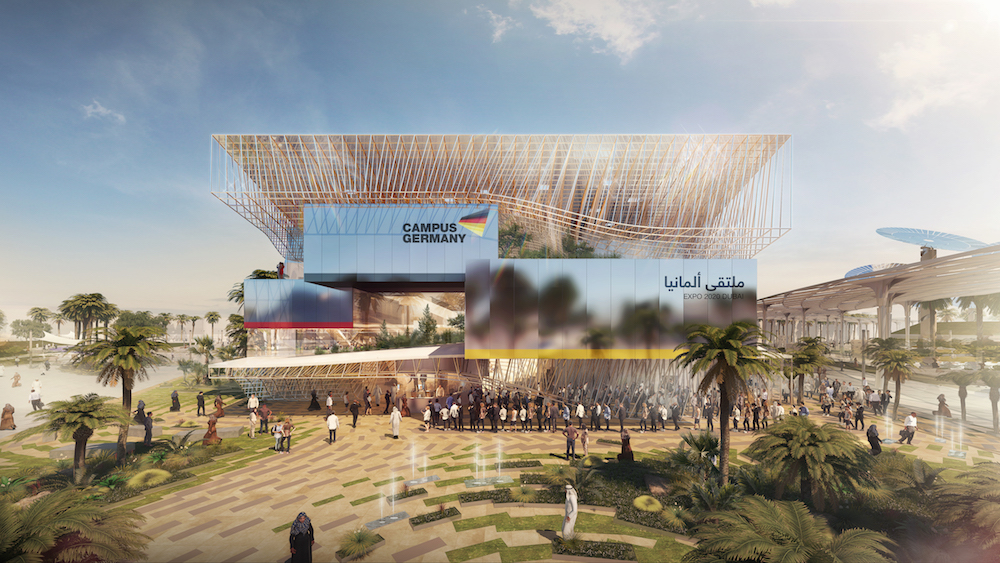 The German pavilion will allow visitors to discover the pavilion using an intelligent assistant which will act as an 'invisible companion'.
It will be located in the Expo site's Sustainability District and is set to feature a 'vertical campus' which consists of separate modules that converge at a spacious atrium complete with a stage and restaurant.
Set under the theme 'Campus Germany', the pavilion is designed as a place of knowledge, research, and communication, with every visitor recieving a tailored experience through an intelligent assistant called 'IAMU' who will provide information as they move through the space. The IMU technology will be revealed to the world for the first time as part of an aim to showcase Germany's latest innovations in science and technology. Read more about the German pavilion here. 
Oman pavilion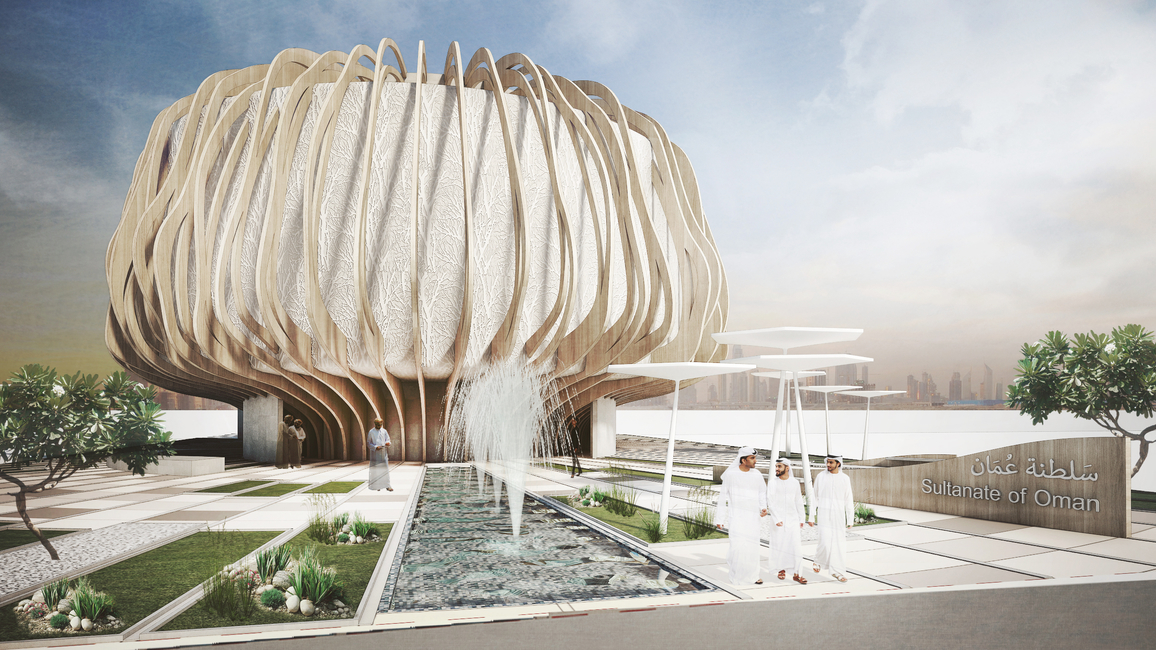 Oman's pavilion design aims to reflect a contemporary take on Islamic and Omani traditional architecture, centred around the frankincense tree as its main theme, which has been "recognised as a bridge between the civilisations of the ancient world."
The pavilion will include five zones that feature information relating to its theme, including the logistics of transporting Omani frankincense to other parts of the world, the knowledge economy through which the use of frankincense was obtained as food and medicine, the manufacturing of frankincense, sustainability through the care of the tree and land, and the travel and exploration of frankincense as a commodity. Read more about Oman's pavilion here. 
US pavilion by Curtis W Fentress of Fentress Architects and George P Johnson Experiental Marketing (GPJ)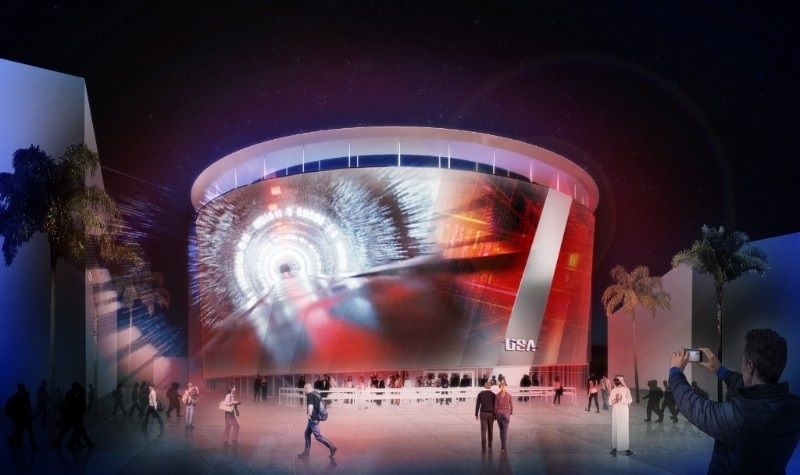 Virgin Hyperloop One will premiere its hyperloop ride experience at Expo 2020 Dubai's US Pavilion, revealing a design that is circular in form with slants fashioned to project a sensation of movement, making the viewer feel like the building itself is in motion. Read more about the US pavilion her. 
Luxembourg pavilion by Metaform and The Space Factory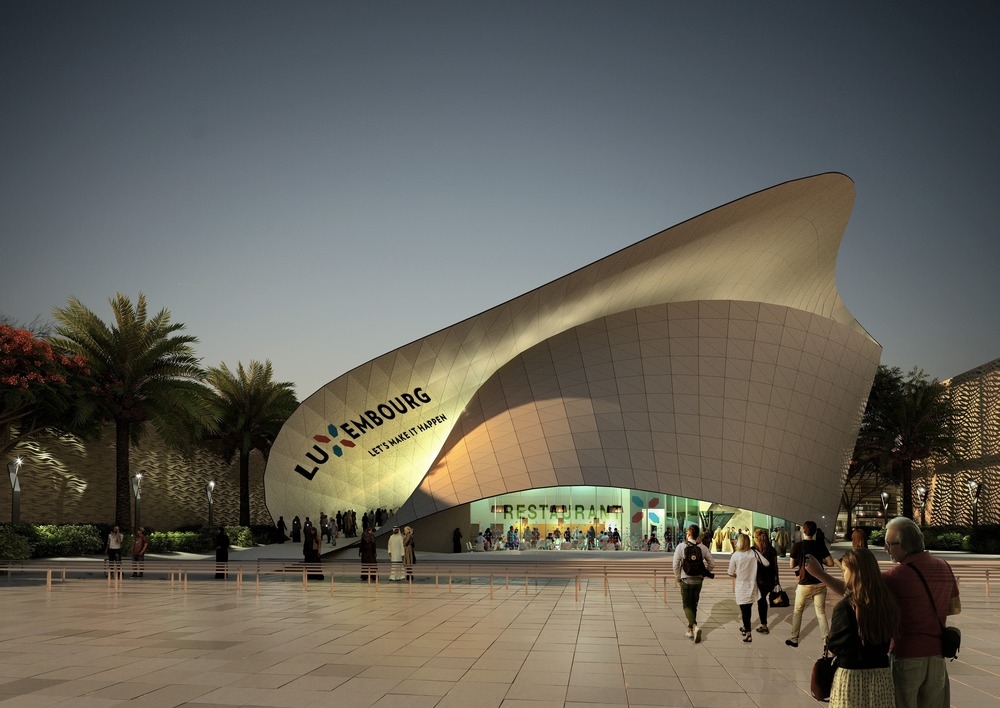 The Luxembourg pavilion is inspired by a Möbius strip, where twisting and folding of a ribbon results in one single surface, with no beginning and no end, symbolising an infinity, and in this particular context, the circular economy.
The pavilion is modeled and organised around this principle, while partial optimisation of the width of a ribbon creates needed shade and protection from the sun.
The limit between interior and exterior is blurred, where the single face of the ribbon is at one time a floor, a wall, a ceiling, hence the multilayered scenography canvas.
Scenography and architecture are complementary, allowing the visitor to merge with the exhibition. In a didactic, interactive and intuitive way, different projections and animations show the country and its inhabitants. Read more about the Luxembourg pavilion here.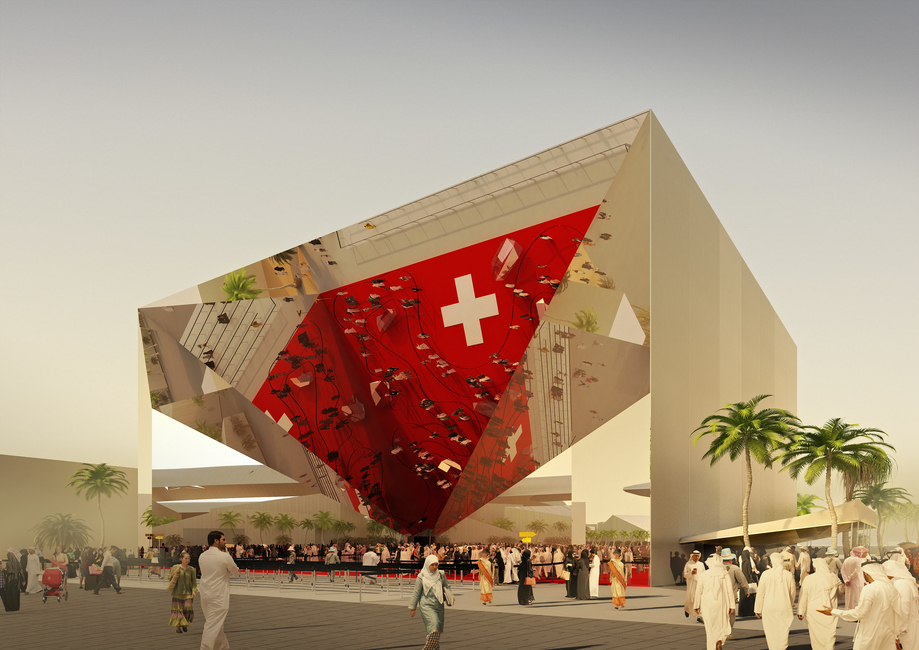 The concept of the Swiss pavilion centres around reflecting key aspects of Switzerland's culture and nature, delivered through a series of interactive elements and images.
The pavilion itself is created out of a construction of scaffold elements and textiles that reference temporary Bedouin tent structures, that are both easily installed and removed.
Based on the concept of a hike, visitors are invited to experience specific Swiss values by 'hiking' through the pavilion, subdivided into three individual paths, each reflecting the core themes: 'Typically Swiss', 'Discover Opportunities and Possibilities' and 'Connecting Minds- Creating the Future'. Read more about the Swiss pavilion here. 
New Zealand pavilion by Jasmax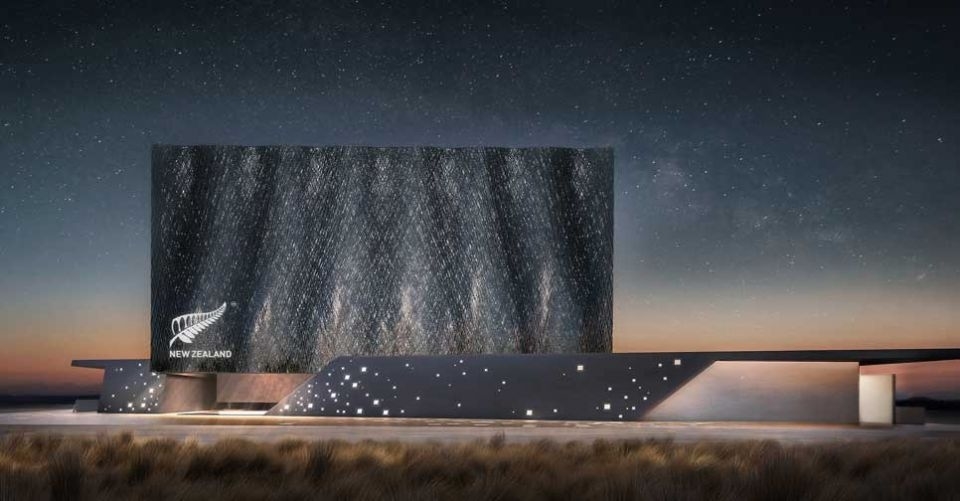 The New Zealand pavilion is inspired by the country's protection of its people and territory.
It takes inspiration from waka taonga, carved containers made by Māori, the indigenous people of New Zealand, to safeguard items of high value.
They were reportedly gifted to strengthen relationships, create new ones and tell stories of one generation to the next, ultimately bringing people together, a theme that reflects with Expo 2020's motto of Connecting Minds, Creating the Future. Read more about the New Zealand pavilion here.