Historic Kuwait landmark Al-Sawaber faces imminent demolition
One of Kuwait's most well-known and historic landmarks, the Al-Sawaber complex, a residential compound in Sharq, faces imminent demolition, as ordered by the country's Ministry of Finance. 
Built in 1981 as a derivative of a 1977 design proposal by Canadian architect and urban planner Arthur Erikson, Al-Sawaber is one of Kuwait's first high-density complexes, consisting of 33 buildings and 520 apartments.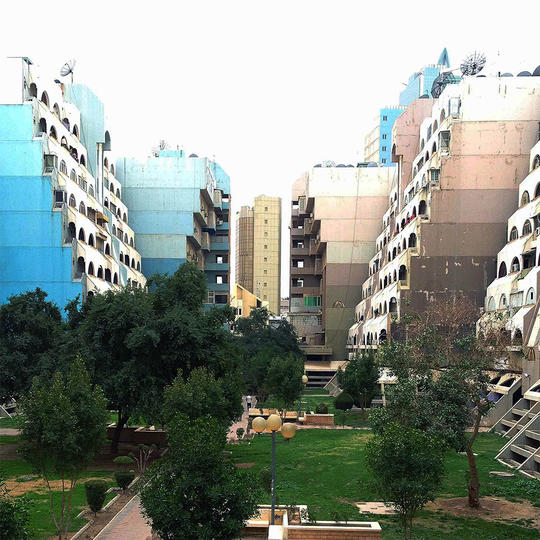 Located on a site of 245,000m2, Al-Sawaber's built form provides easy horizontal circulation between the apartment blocks, while the placement of the buildings creates intimate spaces protected from the rest of the city.
Recent years have seen a rise of arson in some units, escalating land values in the surrounding area, gentrification and a lack of maintenance. And with 70 percent of the tenants evacuated and relocated to nearby housing, Al-Sawaber's demolition is likely to happen in the coming days.
In response, members of Kuwait's architectural community, including individuals from Kuwait Municipality Masterplan and Planning Department, Kuwait University School of Architecture and the National Council for Culture, Arts and Literature, are trying to save the project by raising awareness through the Instagram handle @save_alsawaber and by using the hashtag #Save_AlSawaber.
According to the team running the account, the government has no clear vision for what the complex's site will be used for following Al-Sawaber's demolition, but it has proposed similar projects. It also confirmed that while the date for demolition is yet to be confirmed, it believes demolition will occur any day now as a contractor is suspected to have been selected.
"The Al-Sawaber complex...was constructed as a higher density model for collective living," wrote Asseel Al-Ragam, vice dean of Academic Affairs, Research and Graduate Studies, College of Architecture at Kuwait University in her essay, 'The Destruction of Modernist Heritage The Myth of Al-Sawaber'.
She continued: "It enjoyed a short period of success after which its lack of maintenance and demographic shifts in Kuwait City's population resulted in its deterioration and subsequent calls for its demolition...The Al-Sawaber project came to be during a period of radical experimentation in housing typologies. It was part of the 1960s utopian stock of projects designed by renowned international architects, who took part in shaping a Kuwaiti modern architectural history."