Abwab Pavilion by Fahed + Architects wins Sustainable Project of the Year
Dubai-based architects Fahed + Architects won the MEA Award for Sustainable Project of the Year for its 2017 Abwab Pavilion in Dubai, UAE.
Working with waste management company Bee'ah, Fahed + Architects designed the pavilion using recycled materials, including bed springs and concrete. The space in Dubai Design District (d3), which annually exhibits projects from designers across the Middle East, also aimed to highlight values like recycling, conservation and technology.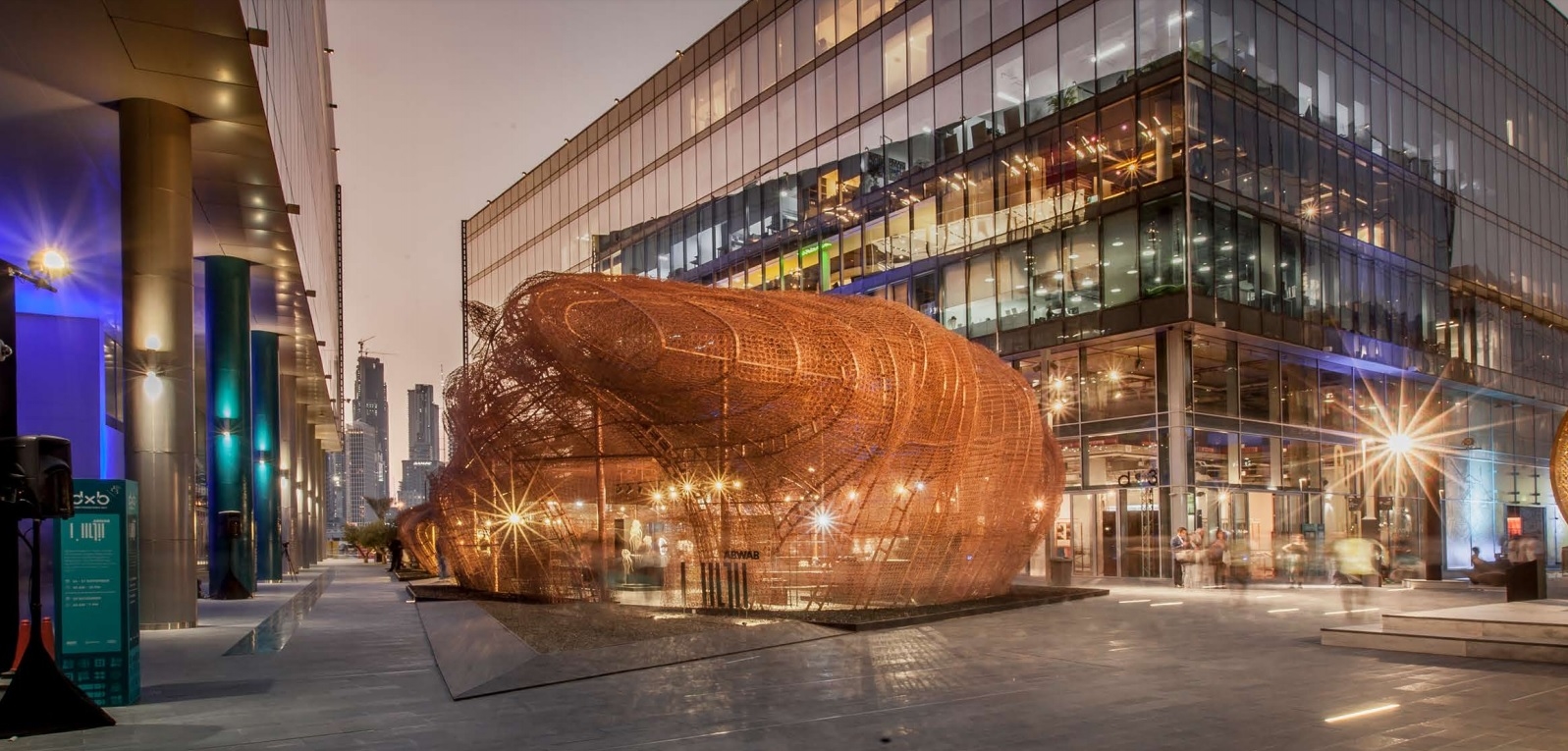 The idea was to erect a structure that floats like a cloud between the volumes of d3 and facilitate the viewing of various products. The Abwab Pavilion also sparked dialogue regarding the meaningful transformation of recyclable materials. The bedsprings act as a coil mesh, distilling the light that passes through it to reveal interesting patterns on the ground. Drawing from the shapes of cotton candy or coral cluster in a reef, the structural system illustrates a series of interconnected posts to support the clouds of mesh.
The judges complemented the project's thoroughly integrated sustainability. "In contemporary architecture the issue of sustainability has to overcome the notion of building performance and rise to the definition of spatial and formal expressions," the panel said.
It added, "This project uses recycled material in a poetic way, contributing to the practice that will inevitably think of sustainability as major design drive of the architecture of the future."
"I wasn't expecting this at all, especially after seeing the competition in the category," said Fahed Majeed, founder of Fahed + Architects, upon receiving the award. "It's a great moment. When I saw the shortlisted entries, I told everyone that I probably won't even attend as all the big players are in the list, such as Zaha Hadid Architects, and that we don't stand a chance."
According to Majeed, most architects in the Middle East work with processed materials due to existing parameters. "But what we have done with the Abwab Pavilion 2017 is celebrate material, which seldom happens."
Highly commended in this category was the King Abdullah Petroleum Studies and Research Centre (KAPSARC) in Riyadh, Saudi Arabia, designed by Zaha Hadid Architects.
Judges were impressed by the design's active and passive sustainable solutions and its response to environmental inputs. The panel called the project an "innovative series of fascinating complex spaces."
The award was presented by David Booth, senior technical sales manager from SAS International.
You can view the full shortlist for Sustainable Project of the Year 2018 here.