Zaha Hadid Architects-designed Central Hub masterplan for Aljada development revealed at Cityscape
UAE-based developer Arada has revealed the full masterplan of its latest leisure and entertainment project in Sharjah at this year's Cityscape in Dubai, designed by Zaha Hadid Architects, who won the global competition earlier this year.
Central Hub is the focal point of Arada's mega-development Aljada, designed by Woods Bagot, planned as a 'transformational project for Sharjah', as well as being one of the UAE's smartest projects, utilising 'next-generation technology'. 
Set at 1.9 million feet (over 25 football fields in size), the development is defined by its lush green spaces, water features, as well as ZHA's futuristic concept that reflects the first moment a water droplet strikes the earth's surface. This motion is captured through an array of elliptical buildings that are designed to channel prevailing winds into public spaces and courtyards to aid natural cooling during the hot summer months. 
Designed to be fully walkable - even in the summer months - the Central Hub comprises of up to 732,000 square feet of freen space, including a landscaped community park that covers a quarter of the complex, housing thousands of specially selected trees and plants.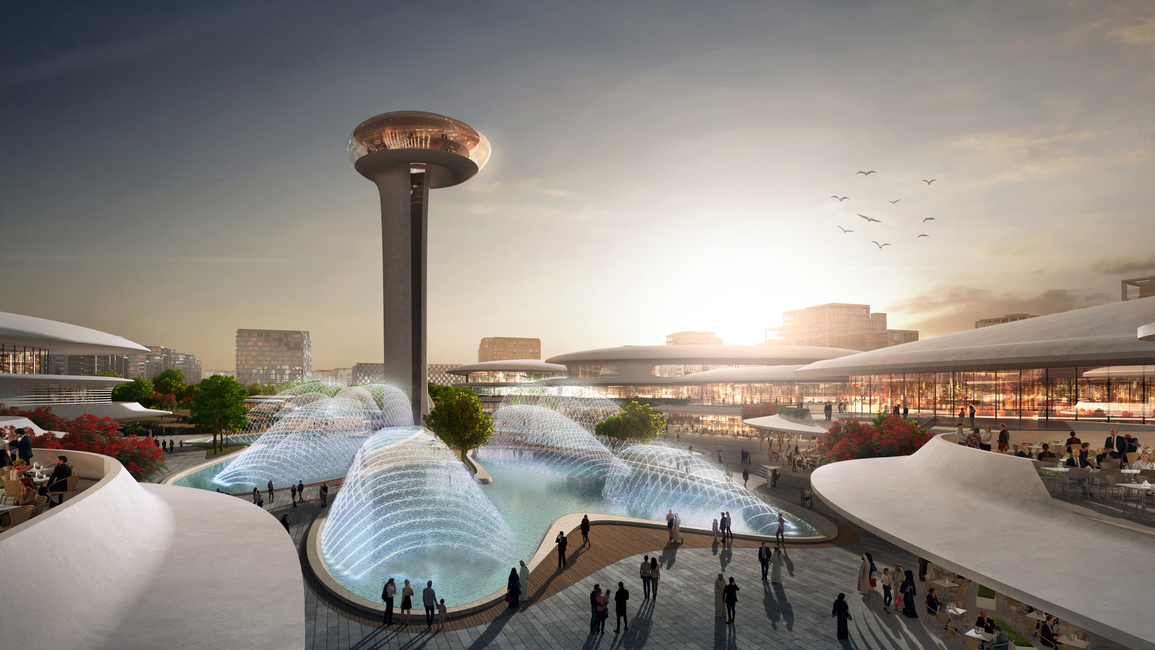 The Central Hub is planned to be a car-free zone and will include a public square for community gathers such as New Year's Eve and National Day celebrations. The public square will also include a 'showpiece water feature' and food and beverage outlets - all built around a watrefront setting.
Construction on the first phase of the project has already begun and is scheduled for completion by the end of Q1 of 2019, while the entire complex is scheduled to be completed by 2022. 
The first phase includes a 'state-of-the-art' sales centre, an outdoor cinema, a food truck village, a skate park, and other family-friendly facilities. 
Sustainability is also one of the main considerations of the project. The entire complex is irrigated using recovered and recycled water, while tensile canopies are used to sustain a micro-climate at ground level for gardens featuring native plant species. The complex's lighting will also be entirely provided using smart solar power.
 "Aljada's Central Hub stands as an example of how conscious design can work with the environment to create a truly unique and inspirational focus for its community. The Central Hub is a defining project for Sharjah and the UAE, and we are proud to work closely with Arada to bring this development to life," said Johannes Schafelner, project director at Zaha Hadid Architects.
"Sustainability is absolutely central to Arada's vision, and that has been reflected in the Central Hub's final design. We are working hard to protect and encourage local native species, as well as making the most of our natural environment. We're  also doing this in a way that is cost-efficient and leaves as small an impact on the planet as possible," added HRH Prince Khaled bin Alwaleed bin Talal, vice chairman of Arada. 
The second and third phases of the masterplan will include a waterplay area, an extreme sports centre, a 'virtual reality zone', two retail-focused areas, an 11-screen cinema, golf course, and a large community park.
In April, Arada signed a management agreement with Emaar Hospitality Group to bring three new hotels, The Address Aljada Sharjah, Vida Aljada Sharjah and Rove Aljada to the megaproject. In January, the developer also confirmed that global engineering giant, Jacobs, had won the contract to design the infrastructure for the project.