Visitors will experience the German Pavilion at Expo 2020 Dubai with an 'invisible companion'
The German Pavilion at the Expo 2020 Dubai will allow visitors to discover the pavilion using an intelligent assistant which will act as an 'invisible companion'.
Designed by Cologne-based agency facts and fiction, and Berlin-based architects LAVA, the pavilion will be located in the Expo site's Sustainability District and is set to feature a 'vertical campus' which consists of separate modules that converge at a spacious atrium complete with a stage and restaurant. 
Set under the theme 'Campus Germany', the pavilion is designed as a place of knowledge, research, and communication, with every visitor recieving a tailored experience through an intelligent assistant called 'IAMU' which will provide information as they move through the space. The IMU technology will be revealed to the world for the first time as part of an aim to showcase Germany's latest innovations in science and technology.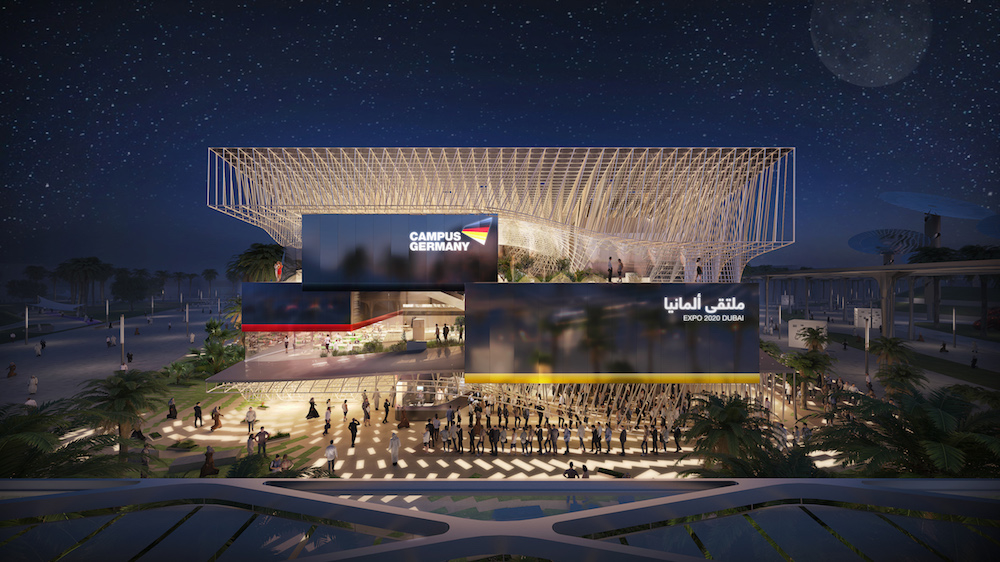 Visitors will begin by "enrolling" at Campus Germany by providing basic information and choosing their preferred language. Later, each visitor will be given a IAMU badge that will help guide them through the pavilion.
"As two issues high on the regional and global agenda, education and sustainability were important focuses for us when designing Campus Germany for Expo 2020 Dubai," said Dietmar Schmitz, commissioner general of the German Pavilion at Expo 2020 Dubai. 
He continued: "Our pavilion concept has been designed to seamlessly combine exhibition and architecture, with a storyline that will grasp visitors' interest and hold it from start to finish, inviting them to engage with the content and be actively involved in the experience." 
In keeping with the theme of education across the pavilion, Campus Germany's welcome hall will feature a large pit containing 155,000 balls; each of which either highlight a "sustainability champion" from Germany, or tell a sustainability-related story. Messages contained in each ball are revealed through a scanning device.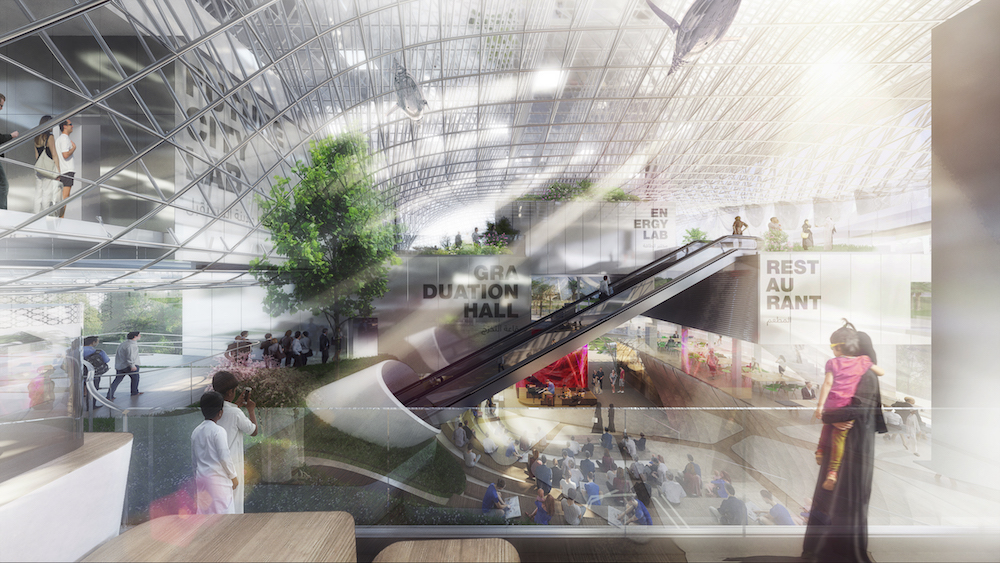 Campus Germany is also set to have different 'labs' including the Energy Lab, Future City Lab, and Biodiversity Lab- also created to allow visitors to learn more about the country's achievements in the field of sustainabaility, as well as learning about how their actions affect the environment. 
The tour of the pavilion will end with a 'collective task' that will highlight the importance of collaboration to achieve further progress to create a more sustainable present and future - a message that is in line with Expo 2020 Dubai's theme, 'Connecting Minds, Creating the Future'. 
Germany is set to invest a total of AED 213 million in its Expo 2020 participation, with its 4,500m2 pavilion plot set to be one of the largest of the participating nations at the event. 
Graft Architects also revealed its proposal for the Germany Pavilion, although the firm didn't win the bid. 
Other pavilions have also been revealed for the Expo 2020 Dubai such as UK's Es Devlin OBE-designed UK Pavilion as well as the Opportunity Pavilion which is  made completely of recyclable materials. 
The Expo 2020 Dubai has also recently released a new drone footage of site construction.