The swimming pool is the 'biggest single investment' outside a building, said desert INK's Duncan Denley
According to Duncan Denley, managing director of desert INK Landscape Architects, the pool is often the biggest single investment outside the building for his practice's clients. "We are responsible for ensuring that they secure the maximum return on their investment. Contrary to our assumptions, their primary value has little to do with actually swimming," he said. Having scooped up numerous design awards for his landscapes and pools since arriving in the region in 2002, Denley provides a guide for architects and developers to ensure success.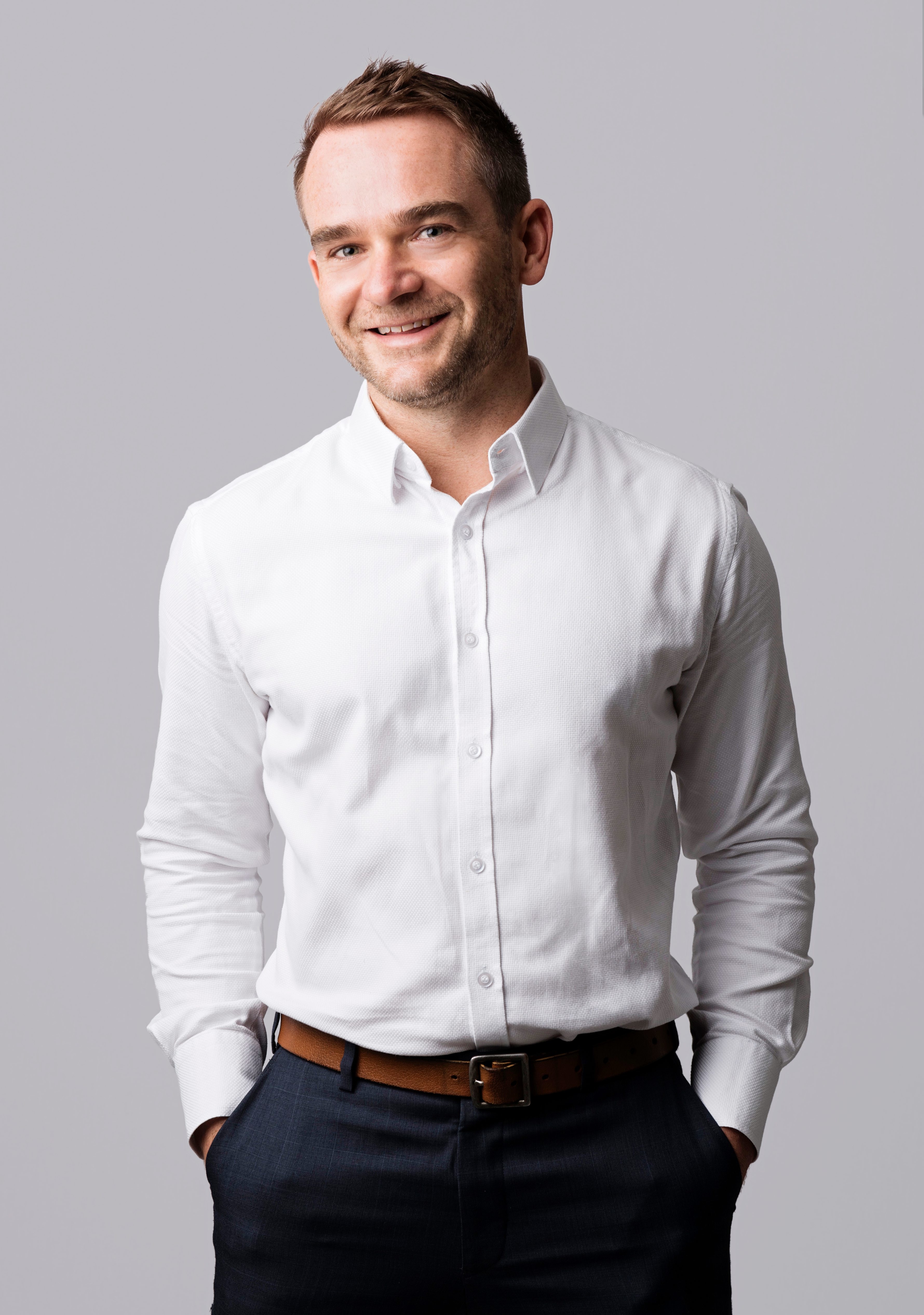 Tell us about the importance of location.
When designed appropriately, the pool can be extremely appealing and should therefore be located to improve the views and setting from within the building and other dwelling spaces. In the case of our Jumeirah Villa design, the U-shaped villa creates a courtyard of sorts, with the boundary wall forming the enclosure to the open side. We pushed the pool location towards the boundary to create an entertainment terrace between the building and the pool. In this location, the pool becomes a wonderful backdrop to the villa and terrace, acting as an alluring water feature first and foremost.
There have also been numerous other projects, where we replaced the proposed water features with a single attractive pool in the primary view. Such critical decisions not only deliver substantial savings during construction and maintenance, but they also make the pool asset work harder for the client. I also recommend consideration be given to sun-tracking studies when locating a pool, since most people prefer pools to be located in the sun.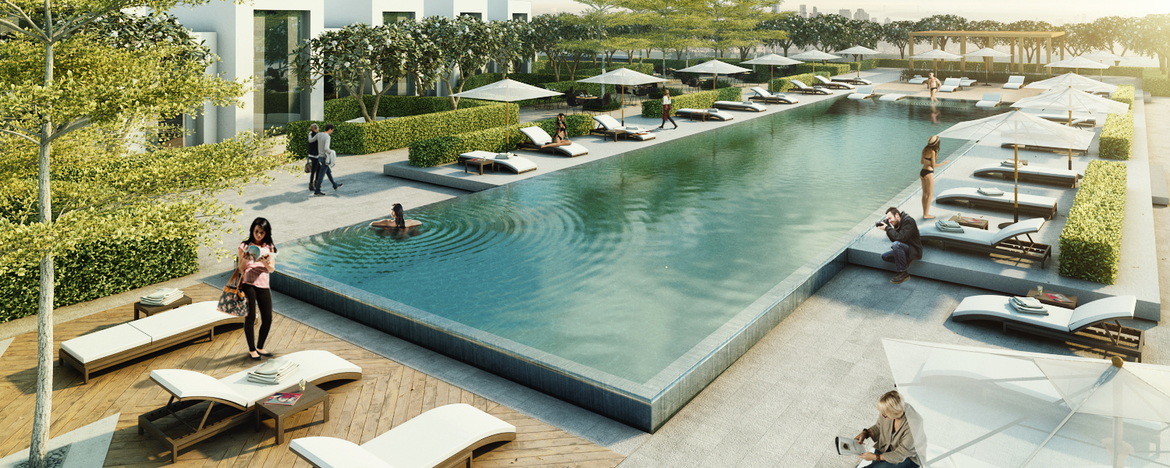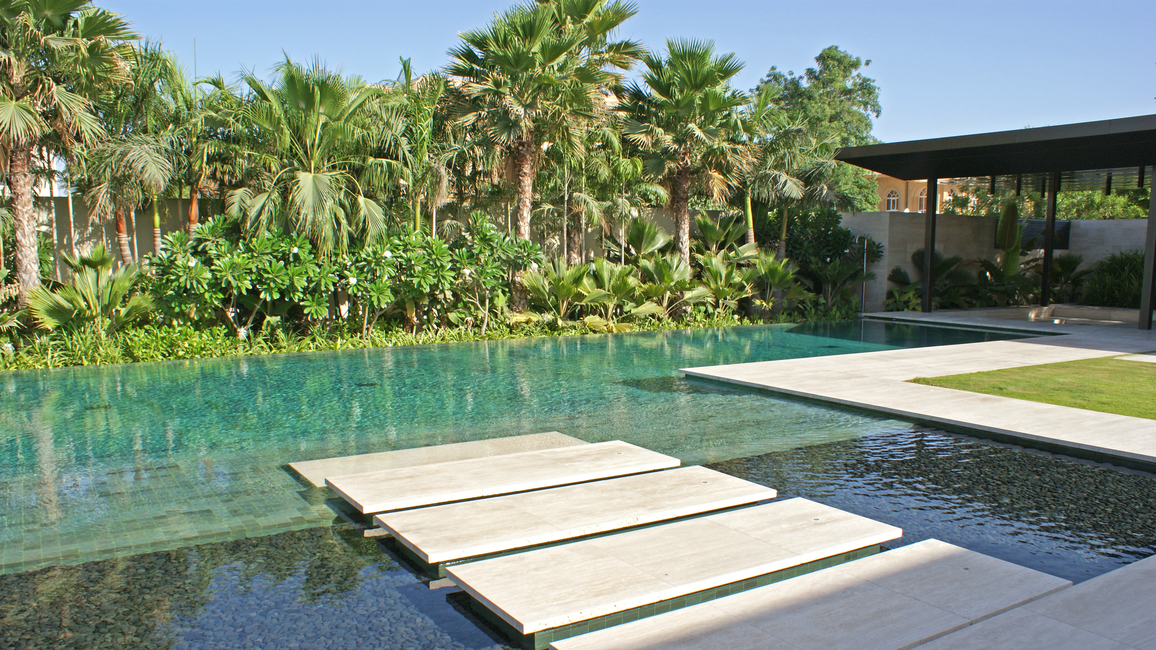 What about pools for commercial developments?
Well, if I use our Delano Hotel project, which is currently under construction on Dubai's Palm Jumeriah, as an example, it's important to note that gaining a thorough understanding of how the pool will be used is critical.
At the Delano, we know that every visitor will want a slice of the amazing views of the Dubai skyline, so we created a very long, thin pool running parallel to the shoreline. This format allows the maximum number of users to enjoy unimpeded views over the infinity edge. We also knew that very few visitors at the Delano are interested in swimming; they want to hang out in the pool, socialise and enjoy a beverage.
A number of seating niches and steps therefore allow for exactly this. I would also recommend questioning clients on who will use the pool and what activities they might require. By far the most popular activity in pools is simply cooling off or socialising, so unless you are designing a pool exclusively for exercise, then it's best to keep it shallow with niches, generous steps and seating ledges aligned with attractive views. You'll see these features get far more use than the traditional 'deep end' of a pool ever does.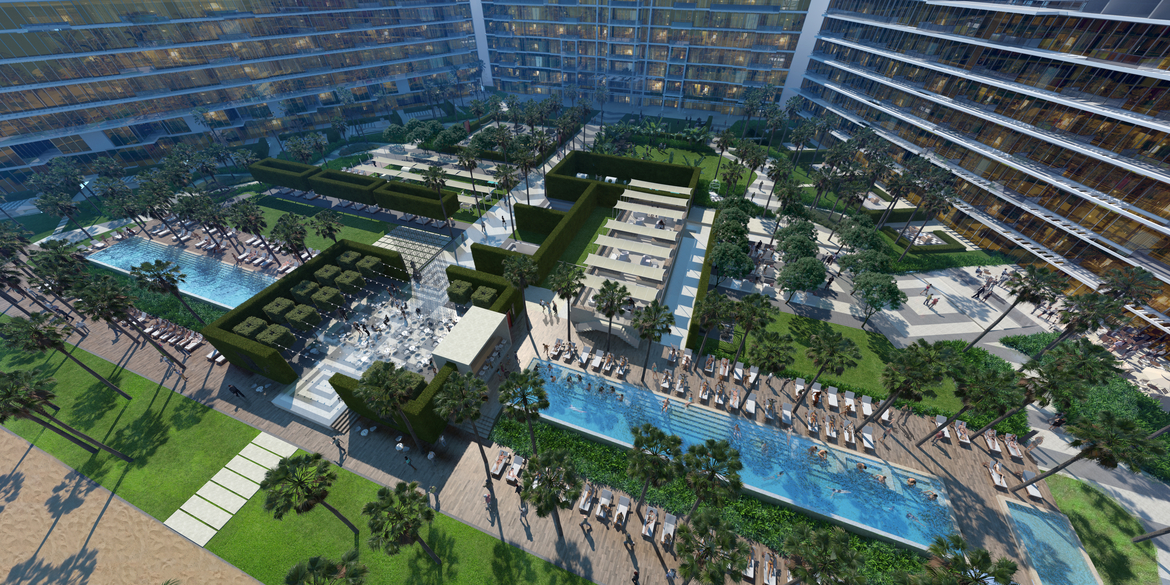 How can architects keep pools context-driven?
Take ques from the setting. The very best pools are an integral part of a wider landscape and architectural language, so they should be designed holistically in terms of shape and materiality. If the adjacent architecture features strong curvilinear forms, then an adjacent pool will most likely fit well if it respects these elements. We've all seen the ubiquitous 'kidney-shaped' pool squeezed into a small rectilinear space without any thought to the leftover, oddly-shaped spaces which are rendered useless. In such confines, it will always pay to keep it simple and consider how the space around the pool could be used.
My advice is to think of the pool as a water feature that will occasionally be used for a dip. Pools always represent great value for money if planned correctly.


desert INK's award-winning work can be explored online by visiting desert-INK.com.